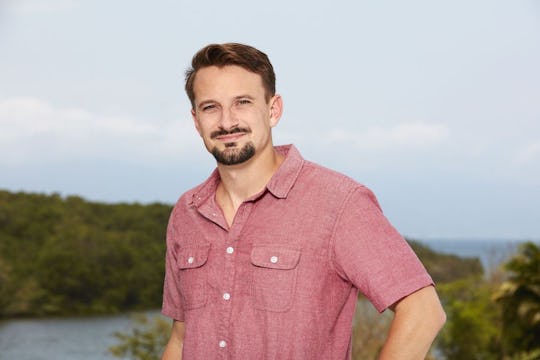 Craig Sjodin/ABC
Evan's Banana 'Bachelor In Paradise' Intro Got Exactly The Twitter Reaction You'd Expect
Evan Bass wasn't exactly the most popular contestant on JoJo Fletcher's season of The Bachelorette. The "erectile dysfunction expert" and single dad of three was best known for his beef with Chad "Meat Chad" Johnson – specifically for throwing a total fit after Chad ripped his shirt. Viewers tended to make fun of him, but when Evan was cast on Bachelor in Paradise alongside Chad, we couldn't help but be excited at the potential drama that combo could stir up. Right off the bat, the Evan LOLs are going strong. Evan's banana Bachelor in Paradise introduction, an absurdly dorky '80s-style sequence, got exactly the reaction you'd expect on Twitter.
The super silly opening credits sequence, introducing each of the main cast members, was something I was looking forward to in the lead up to the season. When the hilariously hammy '80s-esque sequence was introduced in Season 2, people – including people who don't even watch the show – absolutely loved it.
Bachelor Nation isn't always the best at being self-aware and not taking itself too seriously, but that opening sequence proved that they were fully aware of how borderline-ridiculous they can be at times. The intro also serves as a cute little way of introducing each contestant's personality. Prime example: Canadian Daniel Maguire pouring maple syrup all down his naked bod = all you really need to know about that dude.
But as funny as Daniel's maple-syrup-covered bit was, Evan's banana intro totally stole the show. The opening sequence had other cast members being silly and goofy and a little bit sexy... and then there was Evan, awkwardly chowing down on a banana. Twitter reacted to that cringeworthy intro in the expected way.
Some were just impressed by the brilliant producer who had the idea to include the instantly iconic image of Evan + banana.
Many were completely unfazed that someone like Evan would do something banana-related in his intro, tying that symbolic banana to Evan's career as an erectile dysfunction specialist.
One viewer even reported that Evan's banana-eating intro provoked a spontaneous, uncontrollable physical reaction:
Evan may be awkward and a little bit cringeworthy, but one thing's for sure: the guy is definitely good for a laugh and totally knows how to poke fun at the public's perception of him. Or else why would he agree to eat a freakin' banana in his opening intro?