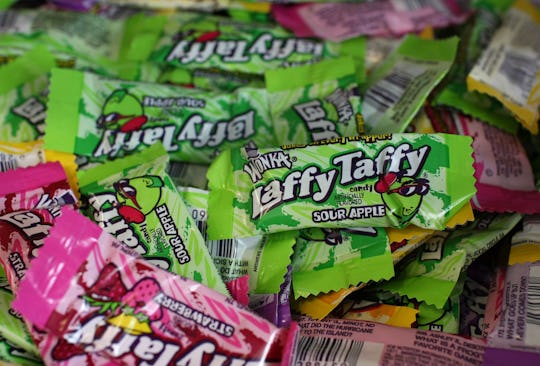 Justin Sullivan/Getty Images News/Getty Images
The Same 'Allergy Safe' Halloween Candy Might Be Deadly In A Different Size
Being the mom of a kid with a severe allergy is terrifying. Every day I find myself going over ingredients in packages like an attorney looking over a million-dollar contract, only, honestly, the stakes are so much higher. Halloween can be a minefield for parents like me, because there is just so much risk for contamination, and it's hard to be the killjoy of your kids' fun. Recently, I learned that even so-called "safe" sweets may contain allergens you're not expecting, because sometimes the same Halloween candy has different allergens depending on the size or type of candy, and that's a potentially deadly risk many parents have never heard about.
Like most people, you probably just assume if one size of a candy is a "safe" allergen-free candy, then the other sizes would be just the same. That assumption turns out to be incorrect, according to Kids With Food Allergies, a website dedicated to educating parents of kids with dangerous food allergies. Many of our favorite candies are on the list. Perennial favorites like Hershey bars, Laffy Taffy, and even Tic Tacs have been found to contain differing allergens depending on what size or flavor they are. Therefore, it is imperative if you're the parent of a child with a food allergy that you read every label, because no two candies can be trusted to be identical.
My daughter's allergy is not life-threatening, thank heavens, but it does make her miserable. She gets a rash that covers her entire body and is bent over in stomach pain. Her little body simply can't digest the proteins in dairy and reacts accordingly. Halloween is hard. We live in New York City, and we do Halloween a bit differently in these parts. In the city, kids don't go door-to-door to get candy from their neighbors, but instead go up and down the streets and stores pass them out. Needless to say, there are no "teal pumpkin" bodegas handing out candy alternatives. My laser vision gets a workout on Halloween, and so does my Target card, because I have to "buy" her "bad" candy with "safe" candy.
But now I know that I need to step-up my candy watching game because I've long just assumed that if one size of candy is safe, they all are, but that's patently untrue, and easily proven. For instance, Hershey's milk chocolate nuggets may be contaminated with almonds, as per their label, but the full-sized milk chocolate bars are not at risk for contamination, according to their label.
You'll find this to be true of myriad other candies, like Trolli gummy worms, Laffy Taffy, Pop Rocks, and more. Also, candy that is repackaged to be sold in bigger lots, like Halloween mixes, may also end up with different allergen warnings. Those are harder to spot, because in the case of candies like Smarties or Dum Dums, they have no label on the actual candy. That doesn't mean the packages of these candies aren't housed in the same bag as, say, a peanut butter chew or peanut M&Ms. If those were to break open, they could potentially contaminate the vulnerable lollipops and Smarties candies.
It's all incredibly frustrating that the same candy can have different allergens depending on the package, but thankfully, there are delicious, allergen-free candy mixes on the market. For just a little bit more cash, you can assure your child is safe and sound. Also, I'm not going to lie. I absolutely volunteer as tribute to eat all the candy my child cannot. It's a real burden, and I do have to rinse my mouth thoroughly afterwards, but I manage.