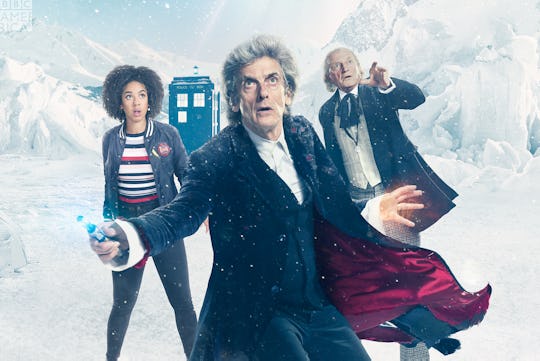 Ray Burmiston/Noise In Colour
Every Must-See Christmas Special To Watch On TV This Holiday Season
Now that December has begun, the holiday season is officially in full swing. Stores have been pushing Christmas decorations since August, but now the countdown to the big event is just a matter of weeks. Getting ready for the holidays involves more than just shopping until you drop and baking countless batches of cookies. After all the running around is done, all you want to do is settle in for a cozy night of TV watching. And a list of every 2017 Christmas special to watch on TV this holiday season means you'll have something to enjoy (almost) every night.
Thankfully there's a Charlie Brown special for nearly every holiday in existence, so you won't be without kids bopping to jazz or beagles causing trouble. But if that's not your vibe, then the television landscape has so much more to offer: musical specials, sketch comedy, cooking and crafts. Every genre is being served by a special this year, so no matter where your interests lie, you should be able to find something that will appeal to you.
Once you've completed all your errands, prepare to enjoy any number of Christmas specials that will inspire that holiday spirit from now until December 25 — and even after.
A Charlie Brown Christmas (Nov. 30)
Charlie and Snoopy usher you into the month of December with a timeless classic that reminds everyone of the true meaning of Christmas. Catch it on ABC at 8 p.m. EST.
East Los High (Dec. 1)
Fans of the Hulu series can catch a Christmas special that picks up after the show's fourth season and ushers the characters into a new phase in their lives.
The Carol Burnett 50th Anniversary Special (Dec. 3)
Airing at 8 p.m. EST on CBS, this special is an homage to the original Carol Burnett Show. Burnett will be joined by her former co-stars Vicki Lawrence and Lyle Waggoner, as well as stars like Jim Carrey, Kristin Chenoweth, Stephen Colbert, Jane Lynch, and Maya Rudolph. Fans of the original can't miss it.
The Chew: Snowed in for the Holidays (Dec. 3)
If you prefer crafts to comedy, then tune in at 3 p.m. EST on ABC for a special holiday episode of The Chew. Mario Batali, Michael Symon, Clinton Kelly, and Carla Hall will be accompanied by Human Nature, so a soundtrack of carols can be the background for all the Christmas party tips you'll get.
Encore! (Dec. 10)
Kristen Bell fans can't miss her new ABC series, which premieres at 10 p.m. EST. Encore! has an interesting premise: Bell will bring on some Broadway professionals to help the reunited cast of a high school production of Into the Woods. Twenty years after the group first performed the musical, they'll get their chance to do it again with some serious heavyweights on hand. No Frozen songs, unfortunately.
Disney's Fairy Tale Weddings: Holiday Magic (Dec. 11)
Perhaps you need more Disney than the mere presence of Kristen Bell can provide. In that case, hop on over to Freeform at 8 p.m. EST on Dec. 11 to see hosts Stephen "tWitch" Boss and Allison Hoker take a tour through weddings and proposals that have occurred at Disney locales.
Gwen Stefani's You Make It Feel Like Christmas (Dec. 12)
Gwen Stefani is bringing her new Christmas album to life with a special performance of its songs at 9 p.m. EST on NBC. You'll get classic songs old and new as well as some fun celebrity guests: Chelsea Handler, Ken Jeong, Seth MacFarlane, Ne-Yo, and (of course) Blake Shelton.
Taraji's White Hot Holidays (Dec. 14)
Is there anything Taraji P. Henson doesn't improve? She'll be bringing an extra sparkle to Christmas once again at 8 p.m. EST on Fox with her variety special Taraji's White Hot Holidays. And she won't be doing it alone: Jussie Smollett, Fergie, Ciara, Chaka Khan, Faith Evans, Salt-N-Peppa, and Leslie Odom Jr. will be there too.
Showtime at the Apollo: Christmas (Dec. 14)
That will be followed on Fox by Showtime at the Apollo: Christmas at 9 p.m. EST. Steve Harvey and Adrienne Hough will host as a medley of holiday songs are performed by Snoop Dogg, Boyz II Men, Fifth Harmony, and DMX. Fox has got your musical needs covered on Dec. 14.
Jingle Ball Tour (Dec. 14)
But if you haven't grooved quite enough, switch over to The CW at 8 p.m. ESTS to catch the 2017 iHeartRadio Jingle Ball Tour. All your favorite pop stars (and perhaps some of your least favorite pop stars, too) will be performing: Demi Lovato, Taylor Swift, Kesha, Sam Smith, Fifth Harmony, Camila Cabello, Liam Payne, and The Chainsmokers
A Christmas Story Live! (Dec. 17)
Classic film A Christmas Story gets a new spin on Fox at 8 p.m. EST. It follows Matthew Broderick as a grown-up Ralphie Parker singing all new songs alongside Maya Rudolph, Jane Krakowski, and Chris Diamantopoulos.
Father Christmas (Dec. 22)
If you're looking for something to enjoy with the kids, look no farther than Peppa Pig's Christmas special, with premiers at 12:30 p.m. EST on Nick. Peppa, George, and company will be putting on a holiday showcase, which is sure to be something the entire family can have fun watching together.
I Love Lucy Christmas Special (Dec. 22)
Christmas is all about tradition and it doesn't get more familiar than watching two beloved holiday episodes of I Love Lucy, which can be found playing one right after the other on CBS starting at 8 p.m. EST.
The Disney Parks: Magical Christmas Celebration (Dec. 25)
At 10 a.m. EST on ABC, Julianne Hough and Nick Lachey lead viewers from one song to the next as numerous stars belt out beloved Christmas and Disney songs. Turn it on if you get bored with the Yule Log and listen to Idina Menzel croon, "When You Wish Upon A Star."
The Doctor Who Christmas Special (Dec. 25)
But Christmas isn't all about caroling. If you'd like a hint of scifi in your celebration, the Doctor Who Christmas special, titled "Twice Upon a Time," is here to meet your needs. Current doctor Peter Capaldi will cross paths with doctors old and new: the very first, David Bradley, and the recently announced Jodie Whittaker. Stay tuned for the airtime, because it's unknown right now.
Call the Midwife (Dec. 25)
If you'd like a more grounded British drama to enjoy on Christmas, try Call the Midwife at 9 p.m. EST on PBS.
New Year's Eve Countdown 2018 (Dec. 26)
When Christmas ends, the wait for the new year begins, and Netflix has enough specials to keep you covered until New Year's 2035. All the following will be released on Dec. 26: All Hail King Julien, Beat Bugs, Larva, Pororo, Puffin Rock, Skylanders Academy, Trollhunters, True and the Rainbow Kingdom, and Word Party. A family-friendly New Year's Eve is within your grasp.
New Year's Eve With Steve Harvey: Live from Times Square (Dec. 31)
On New Year's Eve itself, you have two major options (unless you're just planning to watch random Netflix movies from your couch while sipping champagne, like I do every year). On Fox, Steve Harvey will be back to take you into 2018. Guests and musical performances fill the night starting at 8 p.m. EST until the ball drops at midnight.
New Year's Eve Live With Anderson Cooper and Andy Cohen (Dec. 31)
On CNN, also beginning at 8 p.m. EST, Anderson Cooper and Andy Cohen will be prepared to help you ring in the new year. It's their first year hosting together, so you might want to check it out.
With so many Christmas specials airing this holiday season, audiences will be set all month long. So go forth, and let the holiday binging festivities commence!
Check out Romper's new video series, Romper's Doula Diaries:
Watch full episodes of Romper's Doula Diaries on Facebook Watch.