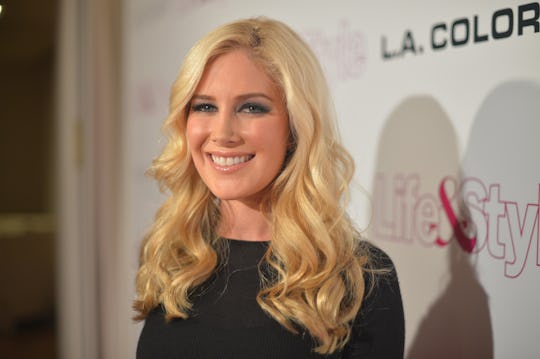 Charley Gallay/Getty Images Entertainment/Getty Images
Every Mom Should Read Heidi Montag's Honest Comments About Her Postpartum Body
Women feel a lot of pressure to lose their baby weight. From the time a woman gives birth to her baby, there is such an immense push for her to get to her pre-pregnancy weight or fit into that favorite pair of pre-pregnancy jeans. When you're a celebrity or in the public eye, like former reality star, Heidi Montag, who gave birth last October, this pressure can increase ten-fold. This is why every mom should read Heidi Montag's honest comments about her postpartum body because she gets it.
People are used to seeing Montag on The Hills, where she and her now-husband, Spencer Pratt, had their early 20's documented for MTV cameras. But they have come a long way since they ran around Hollywood, going to clubs, and confronting every bit of drama that came their way. They've settled down, started their own podcast, and rule over Snapchat and Instagram where they document every moment of their lives — and in October, they gave birth to a son, Gunner Stone.It's been five months since then and judging by their social media, Montag and Pratt could not be happier to be parents.
But because their son is occupying so much of their time, Montag revealed to Us Weekly on Friday that she was not concerned about getting to her pre-baby weight, even if she gained 45 pounds while pregnant with Gunner. "I thought I would gain maybe 20 or 30 pounds during my pregnancy," Montag said. "But I gained over 45."
Editor's Note: The Instagram post has since been deleted.
Although she had gained weight, Montag told Us Weekly that losing weight hadn't been a major concern for her and that she "wanted to give it time." Her comments about her postpartum body are something that a lot of new moms could spare to listen to. Montag opened up to Us Weekly, saying:
I'm eating healthier than when I was pregnant, ironically, because I want to make sure Gunner has all the nutrients he needs. Having a baby has made me really appreciate my body, not just how it looks. It's amazing, the human body.
If you were a fan of The Hills, then you'll remember that in 2010, Montag had 10 plastic surgery procedures in one day. At the time, she cited her insecurities and being in the public eye for the reasoning behind getting the procedures, according to HuffPost, and told People at the time that she thought of herself as an "ugly duckling" before plastic surgery.
Since then, Montag has stated that she regrets getting the procedures done and told Entertainment Tonight in 2016 that she was way in over her head at the time. "I had no idea what I was getting into," Montag said. And in her recent interview with Us Weekly, Montag further reiterated the fact that it's likely that she won't get any plastic surgery done in the future. "I have no temptation to have any kind of surgery after having a baby," Montag said. "...I might be over that phase in my life."
Editor's Note: The Instagram post has since been deleted.
And although she might have expressed her insecurities with her body just eight years ago, Montag is fully confident in the way she looks now, especially with Gunner attached to her hip. Montag said:
My favorite body part is probably my stomach. Since I've just had a baby in there, it's more meaningful to me. It's fun to show off my mom bod, my tiger stripes.
It's awesome for Montag to be able to come around and have this view point, especially since she had those procedures at just 23 years old, according to People, and at the time Montag told the magazine that she was "beyond obsessed" with plastic surgery.
Not only is Montag's words about her postpartum body inspirational to new moms everywhere, her renewed look on her body image is something that everyone can respect. New moms, take note.