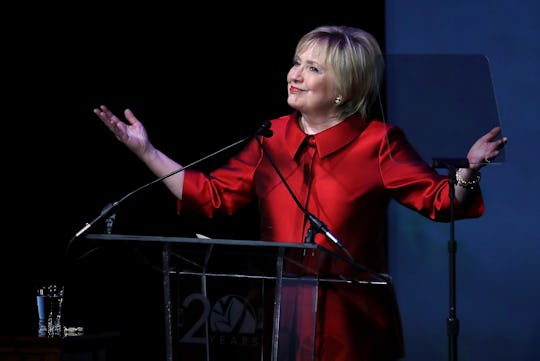 Justin Sullivan/Getty Images News/Getty Images
Hillary Clinton's IWD Tweet Calls Out Young Women
She may not have won the presidential election, but that hasn't stopped former Secretary of State (and Senator, and First Lady, and author, and law professor, and attorney, and advocate) Hillary Clinton from staying involved. While she took a little time to recoup post-election — with hiking and bookstores, according to the internet — she's back now and ready to fight. Every parent should see what Hillary Clinton tweeted for International Women's Day, because the story behind it is truly inspirational.
On International Women's Day, Clinton spoke at the 16th Annual Vital Voices Global Leadership Awards, whose mission is developing women in leadership roles and honoring their achievements. Clinton took the opportunity to not only acknowledge the challenging political climate women are operating in these days, but commended them for their work, according to Politico: "As we all stop to look fear in the face, the result has not only been action, but passion," she said, and encouraged listeners — and women everywhere really, — to "never lose your optimism, your persistence and your resistance."
Clinton also spoke when accepting an award at the Girls Inc. celebration in New York City (for which she donned a red pantsuit, the official color of A Day Without Women), according to CNN:
Now, I have had my ups and my downs. In the last months I have done my share of sleeping, a little soul searching and reflecting, long walks in the woods and in those moments I am thankful for my own village, my community and family and friends who have supported and encouraged me. I have also been buoyed by the love and support that I have received by the young women I have mentored over my lifetime. They inspire me every day.
One of the young women Clinton was inspired by made it onto her Twitter feed:
The tweet she shared came from designer Elly Zupko, who runs SMLX Good, a nonprofit that helps raise money to promote programs that will reduce the gender gap in STEM fields. Zupko tweeted out a photo of a note she said her teacher friend had found under a student's desk:
The tweet went viral even before Clinton shared it, and while a few people accused her of making the tweet up, Zupko wasn't deterred and had the perfect response to trolls: "LOL at all the men who think I faked this tweet in order to support my nefarious, selfish goal of . . . empowering women."
She then included a link where people could donate money to help the young women start their female empowerment club:
Hopefully the boost from Clinton's tweet, and all the other outlets who have shared it since, will help the club manifest not just in that school, but ideally in schools all over the world. There's definitely reason for hope if elementary school girls are not only thinking about empowerment, but want to support one another in it — and already know they have the power to lead.