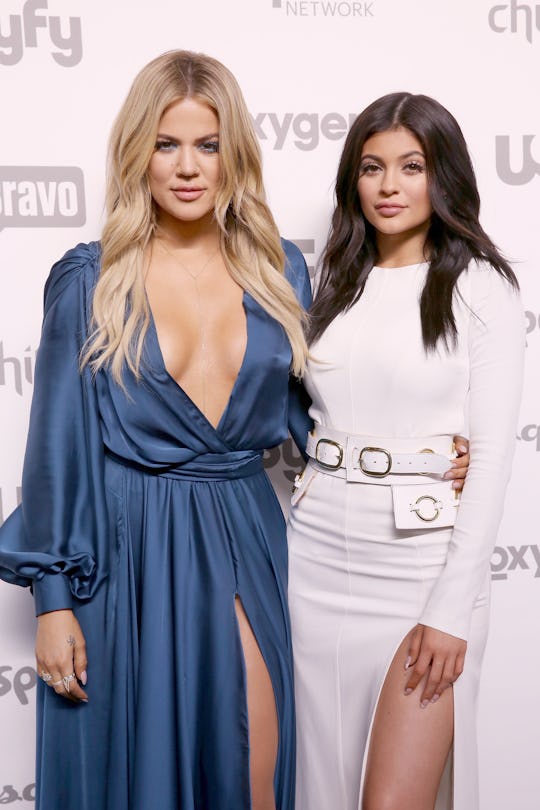 Robin Marchant/Getty Images Entertainment/Getty Images
Everyone Who Has Given Fans "Proof" That Kylie & Khloe's Pregnancy Rumors Are True
In the minds of the baby fever infected KarJenner universe, anything from a throwback photo to a loose-fitting shirt is enough to fuel the rumors of secret sister pregnancies. While no official statement has been made about all the pregnancy reports floating around right now, there have been a few slip-ups. So, without further ado, here's everyone who has "confirmed" Kylie Jenner and Khloé Kardashian's rumored pregnancies in one way or another.
The news of Kylie's alleged pregnancy broke in late September, with several unnamed sources telling People that she was surprised but excited about having a child with her boyfriend Travis Scott. Just days later, Us Weekly reported that Jenner wasn't the only sister expecting; multiple unnamed sources told that outlet that Khloé is also allegedly due this spring, expecting her first child with her boyfriend Tristan Thompson.
The two sisters have remained painfully opaque about the validity of these claims, much to the chagrin of their massive fan base. Despite their silence, some friends and family members have made the occasional slip that has done little to squash the rumors. Considering the highly public lives that the members of the Kardashian-Jenner family lead, it's not all that surprising that there have been some hints — that is if you believe anything done by this famous family is done by mistake; momager Kris Jenner is the reality TV mad genius extraordinaire, after all.
So, let's get started.
Kris Jenner
Kris has led fans to believe the rumors are true several times. Most recently, her Instagram post sharing some of her Christmas presents for her grandchildren has been taken as proof by many fans of two new babies. She captioned the photo:
Thank you so much #burtsbeesbaby @burtsbeesbaby #bbbfamjams for the most amazing collection of family jammies ever and I am obsessed with the plaid!! Can't wait to cuddle up with the kids #holidayseason thank you for a collection for every one of my grandchildren.
The part of her caption that really had the eyebrows raising was "every one of my grandchildren." Just in case math isn't your thing, I'll break this one down for you: The photo shows nine sets of pajamas and commenters were quick to point out that Kris only has six grandchildren, seven if you include the confirmed baby via surrogate for Kim Kardashian and husband Kanye West. Kourtney Kardashian has three children: son Mason and daughters Penelope and Reign. Kim has two little ones: North and Saint, as well as one on the way. Rounding out the group is little Dream, daughter to Rob Kardashian and Blac Chyna.
Those seven grandkids leave two empty set of PJs that many of those who are keeping up with the Kardashians seem to believe are for Khloé and Kylie's alleged babies.
Then, on a recent episode of KUWTK, Kris came pretty close to confirming her daughters' pregnancies when she said, according to People:
I used to pray that one of you guys would have a baby. And now it's like a faucet that that we turned on and it won't turn off, so the fact that I have all these grandchildren — it's been the most amazing journey to watch your kids [have kids]. It's truly the meaning of life.
Kim Zolciak
Kris isn't the only one whose social media presence has gone under the microscope recently. The Real Housewives of Atlanta star Kim Zolciak recently posted a video to her Snapchat story — a video which has since been deleted — that some believe was meant to be sent straight to Khloé, according to CafeMom. The video showed Zolciak and her daughter Brielle Biermann talking about pregnancy and boobs.
Zolciak can be heard saying, "I'm thankful that I don't have a f*cking sister because I'd be really pissed through all my pregnancies." Biermann says something brief before her mom continues, "Show Khloé how big her tits are gonna be when ..."
While the video doesn't come out and say that Khloé is pregnant, many fans quickly speculated that the two are talking about the increase in cup size that the allegedly expectant mother will experience.
Kyle Richards
Back in early October, fans collectively freaked out when Kris' longtime friend Kyle Richards seemingly confirmed Kylie's pregnancy. When speaking to Us Weekly at the time, the Real Housewives of Beverly Hills star dropped a major hint, explaining that should the 20-year-old actually be pregnant, she's in a good position for it — and fans quickly latched on that as a form of confirmation.
"Luckily for Kylie, she's in a financial position where she can also take care of this child and she has an incredible support system with her family, so she's gonna be fine!" Richards told Us Weekly, explaining that she personally hasn't spoken to her friend Kris about the rumored pregnancies. She added, "I'm sure she's excited about all of them, but she has not told me."
Kim Kardashian (Kind Of)
One additional confirmation, or what passes for one when it comes to rumored celeb pregnancies, came from sister Kim. Earlier this month, Kim appeared on The Late Late Show with James Corden where she played the contestants gag-worthy game "Spill Your Guts or Fill Your Guts." When asked about the rumored pregnancies, Kim chose to drink a sardine smoothie over confirming or denying the rumors. She also provided a bit of an explanation as to why none of the sisters have commented on the rumors so far, saying:
We just decided there's so much that goes on that we respect each other's right to speak for themselves, so I will speak about myself. Hopefully they can come on and address whatever rumors you might have.
While it is definitely a bit of a stretch to say that Kim has taken away an doubt about the pregnancies, some seem to believe that her choice and subsequent explanation was evidence that there is indeed something to hide.
Of course, none of these comments or lack thereof count as an official confirmation. But, as fans wait on the edges of their seats the alleged moms-to-be to address these reports head-on, they can look to these "slip-ups" for hope that the rumors will soon be officially confirmed.
Check out Romper's new video series, Romper's Doula Diaries:
Watch full episodes of Romper's Doula Diaries on Facebook Watch.