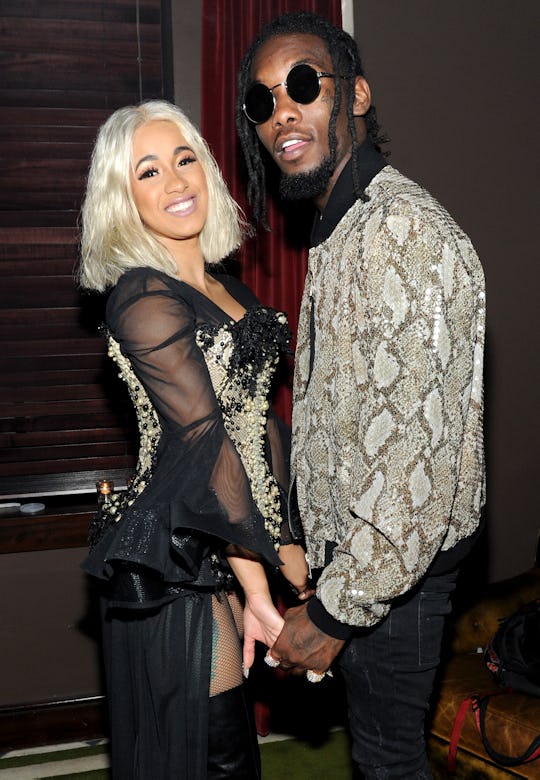 Craig Barritt/Getty Images Entertainment/Getty Images
Cardi B Has Revealed A Lot About Her Daughter In Her First Month As A Mom
Now that Cardi B is a mom, not much has changed. The rapper is still as hilarious and outspoken as ever — she just happens to have a daughter now. When Cardi B welcomed her daughter, Kulture Kiari Cephus, into the world with her husband, Offset, last month, her life did change for the best. And everything Cardi B has shared about her daughter so far shows that she still is that fun, outspoken person that everyone knows and loves — who just so happens to be a mom.
Cardi B gave birth to Kulture on Tuesday, July 10, according to Us Weekly, therefore signifying the start of a new chapter in her life — one where she became a mom. During the first month of Kulture's life, Cardi B did a lot of learning about what it takes to be a mom, all while falling in love with her baby girl. When Cardi B dropped out of her tour with Bruno Mars last month, she wrote that she was learning a lot about being a mom in a statement on Instagram.
"I think I underestimated this whole mommy thing," Cardi B wrote.
Everything she has shared about her daughter since Kulture's birth shows that while she might have underestimated being a mom, she loves it all the same.
The Meaning Behind Kulture's Name
When Cardi B and Offset announced their daughter's name on Instagram, some people thought it was a little ridiculous. But, Cardi B quickly shut the haters down when she explained Kulture's name's meaning on Twitter, according to Billboard. "Anything else would have been basic," Cardi B wrote in the tweet.
In April, during an appearance on The Ellen Show, Cardi B also explained that it was Offset who picked out Kulture's name, according to Billboard. Cardi B said:
My dude named the baby. I really like the name. It's almost tricky, but when it comes out, it's like "Ah!".
Why Fans Won't Be Seeing Photos of Kulture Anytime Soon
In the month since giving birth, fans have not seen Kulture's face or any photos of her posted to Cardi B's Instagram account. This has been done on purpose. Although Cardi B reportedly has had offers to publish Kulture's first photos, Cardi B won't take them, according to TMZ. This is because Cardi B reportedly wants to focus on bonding with Kulture, first, before sharing photos of her with the world.
Another reason why Cardi B is such a fantastic mom.
Why Kulture Doesn't Have A Nanny
One week after giving birth, Cardi B revealed that she wanted to spend every single second with her daughter, according to Us Weekly, which is why she had not (and has not) yet hired someone to help her take care of, or watch, Kulture. Instead, her mother, father, and sister had been surrounding her with love.
In a video, posted to her Instagram account, Cardi B explained this decision, according to Us Weekly:
I have not gotten a nanny yet. I just want to like, learn how to be a mom. And I want to enjoy every single second of it. You know, since I'm going back to work. So no, I don't have that extra extra help and I'm just really grateful.
During an Instagram Live a few weeks later, Cardi B explained her decision to not leave her daughter's side even further, according to People. Cardi B said:
There's this feeling that, as soon as my baby came out, that I have is just like...I can't leave my baby at night, not for one second. A lot of people kept telling me, "You need to find a nanny because you gotta start working soon." And it's so hard because I want to be with my baby every second.
How Kulture Is Demanding
After announcing that she would be dropping out of her tour to focus on her daughter, Cardi B took to Instagram Live, where she updated fans about her daughter, according to People. During the live broadcast, Cardi B revealed that she was breastfeeding her daughter, but breastfeeding has been pretty demanding. Cardi B said during the broadcast, according to People:
I met my match. I can't believe I have a boss. I really have a boss. When my baby wanna eat, she wanna eat. It's not like, "Oh, three minutes." No. "Gimme the milk now!" You gotta burp her right away — everything, everything, everything. She wants everything.
Who Kulture Looks Like
In that same Instagram Live broadcast, Cardi B also shared that her daughter looks like combination of a lot of people, according to People, giving fans some insight into who Kulture might look like. "She's so cute," Cardi B said, according to People. "She looks like me, of course. She looks like her daddy, and she looks like [Cardi B's sister] Hennessy."
It's hard to believe that it has only been one month since Cardi B gave birth. Luckily, since she's been outspoken about Kulture, fans have been there for every single step of the way. The best thing is, Cardi B will have plenty more to say about her daughter as she gets older.