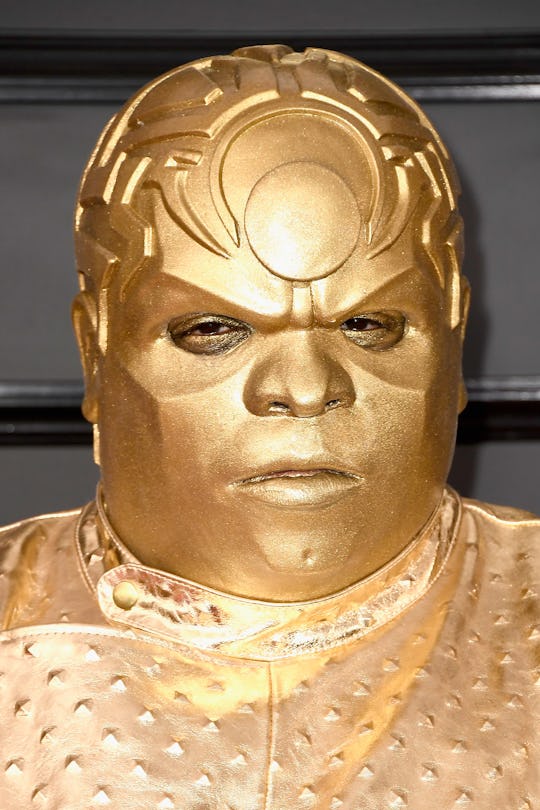 Frazer Harrison/Getty Images Entertainment/Getty Images
Everything CeeLo Green Looks Like At The Grammys
Music's biggest night has arrived, and with it, an expected array of risky, daring, and all-out shocking fashion statements, as per tradition. From singer Joy Villa's "Make America Great Again" gown to Black Bear's and Mike Posner's electric green hair (and dazed expressions), all of Twitter was talking about the various ensembles the Grammy nominees and guests were sporting. Of course, one artist in particular caught everyone's attention from the moment he stepped foot on the red carpet — and social media was immediately in a frenzy, obviously with plenty of suggestions as to everything CeeLo Green looked like, with his golden-coated outfit, complete with gold facepaint and mask.
"CeeLo Green looking like a Batman villain," one viewer joked. "Cee-Lo showed up looking like an angry Ferrero Rocher," another comedian tweeted.
All told, the point of the Grammys red carpet is to make something of a statement, and in that respect, Green definitely nailed it. And while there's surely some sort of good explanation for why the artist decided to gild himself with gold everything, the overarching (and indisputably hilarious) conversation his outfit and mask prompted cemented Green as one of the night's big winners, at least in terms of viral fame.
Below, a small sampling of the many, truly refined suggestions regarding whomever or whatever Green was attempting to channel on Sunday night:
As it turns out, there may have been an explanation for Green's Grammys ensemble: According to hip-hop and R&B news outlet Rap-Up, Green was reportedly channeling his new alter-ego Gnarly Davidson. "In the words of Iggy Pop, and I quote… Look out honey cause I'm using technology… Ain't got time to make no apology," Green told Vibe back in December, following a fake cellphone explosion, which had caused some fans to panic (Green later apologized for the incident, saying he hadn't realized it would cause people to be so "emotionally disturbed"). "Well in that case I may as well be called TECHNOLOJESUS !!! But you can call me GNARLY DAVIDSON FOR SHORT." According to Vibe, Green was attempting to "expand his musical repertoire" by branching out with a new persona.
Green then assured longtime fans that they would enjoy his new material, nonetheless, and that he would "include something for everyone on his forthcoming project."
"My disciples will dance and worship the sound I talk on," he said. "You see? Audacity is the first instinct of art itself and with a lil' jolt of juxtaposition the flat line will again become a vital sign FOR I HAVE GIVEN LIFE to living dead."
Whatever the case, it seems CeeLo Green—er... Gnarly Davidson, was ready to make a big statement with his ensemble on Sunday night. If there were ever a time to establish an award for Most Talked-About Red Carpet Ensemble, it's now.