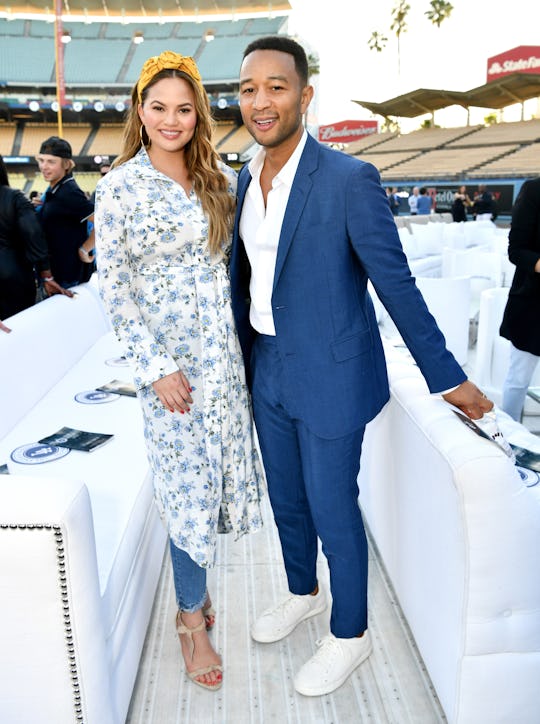 Emma McIntyre/Getty Images Entertainment/Getty Images
Everything Chrissy Teigen & John Legend Have Shared About Baby Miles So Far
Considering Chrissy Teigen is known for her A+ social media personality (as well as being a successful model, television host, and cookbook author, yadda yadda yadda...), it's no surprise that she's been documenting her son's life on Instagram ever since she gave birth to him last month. John Legend has been sharing updates on baby Miles as well, but, as one might expect, Teigen's posts are just a tad more entertaining. Sorry, John! That being said, now seems like a good time to reminisce over everything Chrissy Teigen and John Legend have shared about Miles so far.
Instead of starting with the day Miles was born, it's probably worth it to go back to the beginning, when Teigen announced that she, Legend, and their daughter Luna were expecting a new addition to their family. In November 2017, Teigen shared a video to Instagram of Luna interacting with her mom's pregnant belly. "Luna! What's in here?" Teigen asked her daughter in the video. "Baby!" Luna responded. However, Teigen's caption may have been the best part. "It's John's!" she wrote alongside the clip.
From then on, Teigen continued to document her pregnancy with honest commentary and hilarious musings — up until mid-May, when baby Miles Theodore Stephens arrived.
On May 20, Teigen announced his birth on Instagram with sweet and succinct caption:
Hello, world! This is Miles Theodore Stephens - We are drowning in his little peeps and nuzzles. Our household feels overwhelmed with love. Thank you for all your well wishes!
Legend also Instagrammed the same picture, captioning it: "Our new love, Miles Theodore Stephens." Then, just a few days later, Legend shared the meaning of his son's name while on the red carpet at the Billboard Music Awards, Glamour reported. Legend explained:
Every name we give to our kids will have a little bit of musical history to it ... Miles is, of course, the same name as the great Miles Davis.
He also explained the meaning behind Miles' middle name, Theodore:
Chrissy really liked the name Theodore, so we put it all together and had Miles Theodore Stephens ... When he came out and we hung out with him for a little while, we were like, "He looks like a Miles."
The following day, Teigen showed off how expertly she was already handling the whole mom-of-two thing. She shared quite the photo of herself topless, still wearing postpartum pregnancy underwear from the hopsital, holding Miles, with Luna in the background.
Teigen continued to show off her postpartum life on Instagram a few weeks later with a beach snapshot of her and both kiddos. "Guess we're really doing this kid thing!" she wrote.
Earlier this month, Teigen revealed that June 7 was Miles' original due date. Alongside an adorable Instagram photo of her baby boy, she wrote:
Today was your original due date but you heard how cool we are since that's all we talk about (how cool we are) and you wanted to see what all the fuss was about, 3 weeks early. Well we tricked u! We are boring AF but we love you!
A few days later, Legend showed his followers that he was already super comfortable with baby Miles. So comfortable, in fact, that he enjoyed a glass of rosé on National Rosé Day while cuddling his baby boy.
On June 17, Teigen gave fans a look into her and Legend's Father's Day festivities. "Brunch with my boys!" Teigen captioned an adorable shot of the father-son duo.
Last week, Teigen shared a beautiful shot of baby Miles with his "Dede and Granny." It's clear that Miles is already sounded with so much love!
At just about 5 weeks old, Miles' squishy little face already has adorably distinct features. This week, Teigen Instagrammed a gorgeous photo of her son totally mugging for the camera.
Considering Miles has only been alive for about five weeks, his doting parents have already shared a pretty nice assortment of photos and updates. Here's hoping Chrissy Teigen and John Legend continue using social media to document their adventures in parenthood!