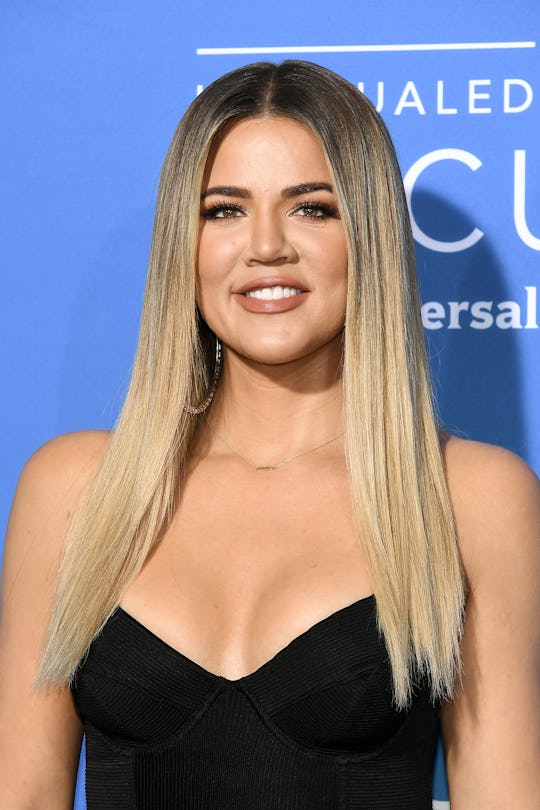 Dia Dipasupil/Getty Images Entertainment/Getty Images
Here's Everything Khloé Kardashian Has Revealed About Her Daughter — So Far
For the nine months that Khloé Kardashian was pregnant, fans could not have been more excited for the soon-to-be mom. And on April 12, Kardashian gave birth to a baby girl, True Thompson, with boyfriend, Tristan Thompson. And now that her baby is finally here, Kardashian hasn't been too active on social media, enjoying these first few weeks of motherhood with her baby girl. But, the good thing is that everything Khloé Kardashian has revealed about her daughter, True, so far is more than enough to tide people over until the new mom finally releases more photos or details about her bundle of joy.
It was just a few weeks ago that Kardashian and Thompson welcomed their baby girl into the world. But Kardashian wasn't the one to break the news to her fans — instead, Kardashian's family members, like older sisters Kim and Kourtney Kardashian confirmed the news on Twitter, according to People, letting fans know that both she and her baby girl were happy and healthy.
Just days after giving birth, Kardashian took to Instagram where she revealed the name of her baby girl. Although that is the last real detail that fans have received from Kardashian, there is still plenty of information that she has revealed about her daughter, thankfully.
True's Name
Four days after it was first reported that she had given birth, Kardashian took to her Instagram to both confirm the news and announce her baby's name — True Thompson. Just True Thompson. According to ELLE, True's birth certificate showed that Kardashian did not choose to give True a middle name and Kardashian's mom, Kris Jenner, revealed that True is a family name, from her side of the family.
What Books She Plans To Read True
In a post to her Instagram Story, Kardashian revealed the books that she plans on reading to her daughter (perhaps when she's a bit older to understand what she is listening to), according to Us Weekly. And a lot of those titles are pretty religious, showing that Kardashian will instill a strong sense of faith in her daughter. Kardashian revealed that she will read her daughter Baby's First Bible Stories, God Bless You & Good Night, and Baby's First Book of Prayers. And all of those titles have a super sweet message to them.
What She Hopes True Will Inherit
It shouldn't come as a surprise that Kardashian wrote on her app that she hopes True will inherit the same body part from her and Thompson, according to Entertainment Tonight — their "big booties." Given Kardashian's sense of humor, this makes perfect sense.
How Her Late Dad Will Help Her Raise True
Kardashian has a lot of parents around her to rely on when it comes to seeking advice to raise True — her sisters, Kourtney and Kim have three children each, and her younger sister, Kylie Jenner, just gave birth to her first daughter in February. But Kardashian revealed on her app that she will take skills learned from both her mom and late father, Robert Kardashian, when it comes to raising True. Kardashian wrote, according to People:
There's absolutely no way I could pick just one parenting technique I've learned from my mom. She's just so incredible and has taught me so much. But the one thing I would take from my dad with us is unconditional love. It's the entire point of family.
Her Hopes For True's Future
In a questionnaire that Kardashian filled out on her app, before True's birth, she got honest about her hopes and dreams for her daughter's future, according to E! News. In the survey, Kardashian revealed that she hoped her daughter would be good at making new friends, hoped her daughter would excel at loving herself, and would love for her daughter to be a singer.
What She Hopes True Will Inherit From Her Dad
In another post on, you guessed it, her app, Kardashian revealed that she hoped her daughter would inherit quite a bit from Thompson, according to Entertainment Tonight. While Kardashian revealed that she did hope her daughter would inherit her sense of style and street smarts, Kardashian stated that she hoped her daughter would take after Thompson in other ways. "We are both charming, but [Tristan] is pretty cute," she wrote, according to Entertainment Tonight.
How She Plans To Feed Her Daughter
In an Instagram comment, Kardashian revealed that she was planning to breastfeed True and she couldn't wait to do so, according to People. "Oh my gosh lol I'm nervous about breastfeeding," she wrote to a fan in her Instagram comments. "I hear crazy things but I'll fight through it and love it."
While there is so much more that Kardashian has yet to reveal about True, everything that she has shared thus far is pretty satisfying and helps fans get to know the little girl a bit more.
Check out Romper's new video series, Bearing The Motherload, where disagreeing parents from different sides of an issue sit down with a mediator and talk about how to support (and not judge) each other's parenting perspectives. New episodes air Mondays on Facebook.