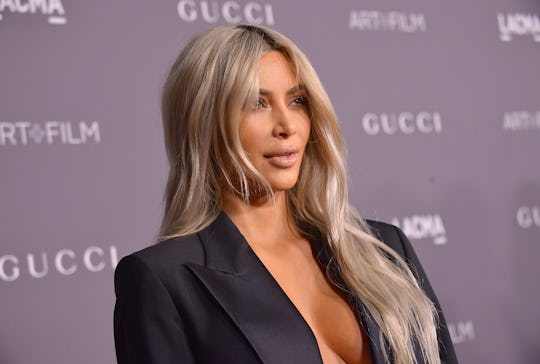 Charley Gallay/Getty Images Entertainment/Getty Images
Here's Everything Kim Kardashian Has Revealed About Baby Chicago So Far
Believe it or not, but it's actually been over three months since the birth of the youngest member of the Kardashian-West family. While it may seem like it was just the other day that rumors were flying about a possible surrogate, everything Kim Kardashian has revealed about baby Chicago so far proves how time flies and that the little girl has grown a lot in just three, nearly four, short months.
Because Kardashian is a public persona, she's actually said a lot about her youngest daughter and has also shared quite a few sweet pictures to her Instagram account. But, because of that, it's easy to get buried in all the information Kardashian has released. For instance, People reported that Chicago was born on Jan. 15 at 12:47 a.m., weighing 7 pounds, 6 ounces, and even though that's something, Kardashian has honestly given fans such an intimate glance into her life as a mom of three, that the little details can kind of get lost.
So, what does the world really know about little Chicago? Well, based on Kardashian's Instagram posts of the baby girl and the interviews she's had since Chicago was born, it's clear that everything else aside, Chicago West is seriously loved.
Chicago's First Appearance Was All Thanks To Her Aunt
When Chicago was first born, it was a while until Kardashian herself shared a photo of the baby girl. In fact, Kardashian's younger sister, Kylie Jenner, actually was responsible for Chicago's debut to society. In Jenner's birth announcement video, "To Our Daughter," there's a scene where Jenner is hanging out with Kardashian getting advice on motherhood and labor, and she gets to hold her niece.
"I love Chicago," Jenner says in the video, as she looks lovingly at the tiniest addition to the family. Jenner gave birth to her first child, daughter Stormi on Feb. 1, and her birth announcement video featuring Chicago was uploaded three days later, on Feb. 4. That's when the world officially met Chicago. After that, it was a while before Kardashian decided to share a full-face photo of her daughter.
First Impression: She's Adorable
Kardashian decided to wait a little over a month before uploading a real photo of Chicago, doing so on Feb. 26. Kardashian didn't reveal much about the 1-month-old at that point, other than the simple caption, "Baby Chicago." Shortly after, E! News reported that little Chicago's nursery featured "a vintage crib estimated at $75,000, and other products recycled from North West and Saint West's infancies."
So yeah, that little cutie is definitely living the good life. And even though Kardashian admitted to going through some difficulties in terms of surrogacy, a February episode of Keeping Up With The Kardashians revealed that she was afraid she wouldn't be as close to her daughter because of it. "I so would have rather done it on my own. I'd just rather feel connected. I just hope I care as much," she said on the episode, according to People. Now, though, it's clear that Kardashian is very much in love with Chicago.
Kardashian Revealed That Chicago Was Practically Perfect Via Twitter
Also in February, Kardashian revealed that Chicago took after both older siblings in the looks department. "She looks a tiny bit like North and a tiny bit like Saint but definitely her own person!" she wrote.
The First Non-Filter Photo Of The Baby Girl
Then, in March, Kardashian let the world see another adorable photo of her daughter, although the details were still scarce. "Morning cutie!" was all she wrote in the adorable photo.
Then The World Was Graced With This Sweet Moment
Alongside a seriously sweet photo of Kardashian's son, 2-year-old Saint, kissing his younger sister, Kardashian revealed, "He loves her so much." Obviously, the whole "sibling rivalry" thing won't be an issue in the Kardashian-West household.
Really, though, it's only been in recent weeks that Kardashian has let the world see more of Chicago.
Kardashian Got *Real* About The Difficulties Of Taking A Family Photo With A Baby
Next to a sweet family photo of the Kardashian-West clique, the 37-year-old got brutally honest about what went behind that one simple shot. "I don't think you really understand how hard it is to take a good family pic. This was all we got before all three kids started crying. I think I cried too."
Amen, sister. Amen. Having a baby changes everything, and as cute as little Chicago is, it's obvious that she hasn't exactly made life easier for the family of five.
The Inspiration Behind Chicago's Name Is So Sweet
Appearing on The Ellen DeGeneres Show, Kardashian revealed that they went with the name Chicago because it had special meaning for her husband. "That is a place that made him, and a place that he remembers his family from," she said, according to The Today Show. Kardashian continued:
He really wanted his mother's name, and I love that name, too, but I just wasn't sure. It's so much to live up to. I just felt Chicago was cool and different.
Also speaking to DeGeneres, Kardashian revealed that West wasn't exactly the most attentive during Chicago's birth. "We had a connecting room, and Kanye was in there playing Connect Four with his friends, and not really paying attention," she said of her daughter's birth, per Cosmopolitan.
Even though Kardashian hasn't really shared too many details about baby Chicago, the family is very happy. And despite all the chaos, Chicago is dearly loved and probably enjoying her time being the baby of the family.
Check out Romper's new video series, Bearing The Motherload, where disagreeing parents from different sides of an issue sit down with a mediator and talk about how to support (and not judge) each other's parenting perspectives. New episodes air Mondays on Facebook.