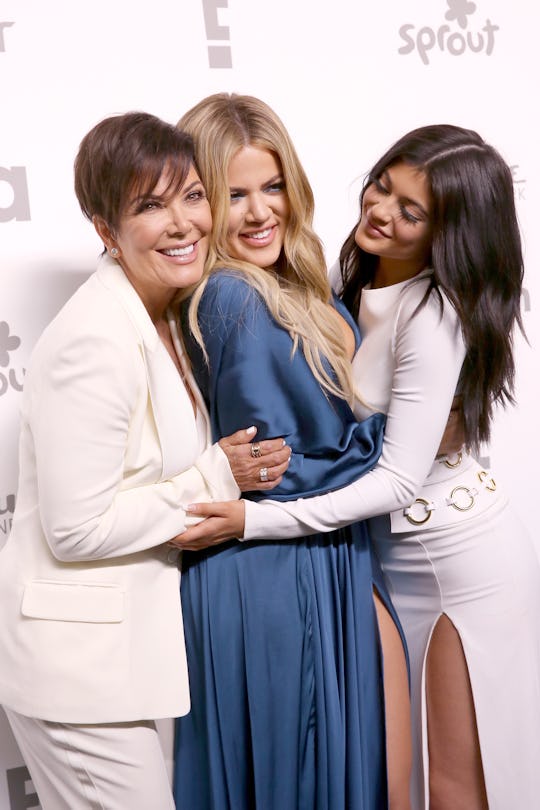 Robin Marchant/Getty Images Entertainment/Getty Images
Here's Everything Kris Jenner Has Said About Khloe & Kylie's Rumored Pregnancies
There is so much to be said about Kylie Jenner and Khloe Kardashian's reported pregnancies — and that is if they'll ever say anything about them. Since September, people have been speculating if the two sisters are pregnant, but they have neither confirmed or denied anything. While the rest of the world tries to piece the "clues" together, there is one woman who probably knows the answers — their mom, Kris Jenner. But everything Kris Jenner has said about Khloe and Kylie's rumored pregnancies shows that even she is going to keep her mouth shut.
If you have been "keeping up" with the Kardashians for the past 10 years, then you are well aware that Kris is the matriarch of the family, managing her daughters' careers and building the Kardashian empire with her bare hands (and their talent). But while Kris is known for her business skills, she isn't necessarily known for letting her daughters' business be known without having some intention behind it.
Kris is smart, after all, and there must be a reason why Khloe or Kylie are neither confirming or denying the news. Still, from what Kris has said, there is a slight glimmer of hope that they will be confirming (or denying) the news, eventually, just when the time is right.
When She Spoke About Kylie's News For The First Time
Hours after TMZ broke the news about Kylie's reported pregnancy with boyfriend Travis Scott in September, The Cut approached Kris at a Milan Fashion Week fashion show and asked her if she knew the story was going to come out. Kris remained coy, telling The Cut:
I just woke up this morning. She's not confirmed anything. I think it's kind of wild that everyone is just assuming that that's just happening...Something happens every single day. You never know what is going to break at any single moment.
When She Compared Her Daughters Rumored Pregnancies To A Faucet
During a recent episode of Keeping Up With The Kardashians, according to People, Kris told her daughters how grateful she was to have so many grandkids, and how she used to pray for just one grandchild. While she didn't address either rumor, Kris did address just how many grandkids she is having — and alluded that there might be more. Kris said, according to People:
And now it's like a faucet that we turned it on and won't turn off, so the fact that I have all these grandchildren — it's been the most amazing journey to watch your kids [have kids]. It's truly the meaning of life.
When She Said She Was "Over The Moon" For Khloe
Kris has been particularly silent about Khloe's reported pregnancy with boyfriend Tristan Thompson. But during an interview with Entertainment Tonight in October, Kris said that she was "so happy" her daughter was in a good place, which could include a reported baby on the way. Kris said, according to Entertainment Tonight:
We love Tristan so much, and she's so happy, and she's been through so much. Just being able to see her do something so creative with her denim line, [Good American] — that's her passion. On top of it, to be in such a great place in her personal life is amazing. She's really happy.
When Ellen DeGeneres Almost Tricked Her Into Saying Something
If there is anyone who can get celebrities to say something, it is Ellen DeGeneres, but even Kris couldn't be swayed by the talkshow host. During an appearance on The Ellen DeGeneres Show, earlier this month according to People, DeGeneres tried to get Kris to spill the beans. "Oh here, I can feel where this is going," Kris said, according to People. "She's trying to trick me into confirming the pregnancies..." But that is all that Kris would say about that.
And thats it. But Kris' obvious silence must be for a reason. Someone, in some way, will have to confirm or deny both reported pregnancies. But it is clear that Kris won't be the one to let it slip anytime soon, unless she has a plan for it.
Check out Romper's new video series, Romper's Doula Diaries:
Watch full episodes of Romper's Doula Diaries on Facebook Watch.