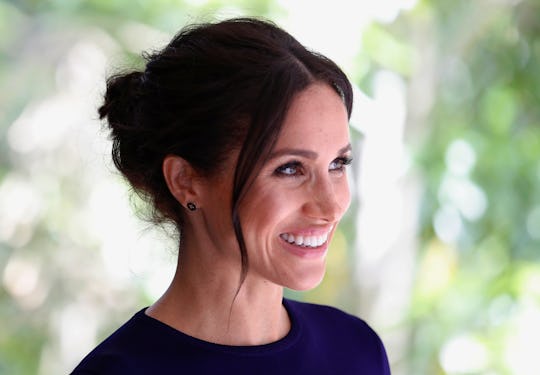 Pool/Getty Images Entertainment/Getty Images
Everything Meghan Markle Has Said About Voting, In Honor Of Election Day
Now that the 2018 midterm elections are here, some people are curious about whether their favorite celebrities went out to vote. One of those celebrities includes the Duchess of Sussex, who was born in California and is a U.S. citizen. Although it's not clear if the new royal voted, there is plenty of evidence out there that proves she cares about the democratic process. And in the spirit of Election Day, here's everything Meghan Markle has said about voting.
A few months prior to the midterm elections, some people wondered whether Markle can still vote in the United States given her new status as a member of the royal family. The answer is yes because the Duchess of Sussex is still a U.S. citizen, something that will change sometime in the next few years, Kensington Palace confirmed in November. But until she renounces her U.S. citizenship, Markle has the green light to cast her ballot. Exciting stuff to think about, right?
Although the Duchess of Sussex hasn't commented on the midterm elections specifically, she has spoken out about voting many times before. Want to know what Markle thinks about this constitutional right? Here's everything the royal has said about voting.
She Knows Voting Is A Privilege
"Exercise your right to vote — sadly, not everyone in this world has it, so if you do, please let your voice be heard," Markle wrote on Instagram in September 2016, according to Yahoo.
She's Well-Informed
Markle knows a lot about voting stats and the current political climate, a sentiment evidenced by her quote regarding the 2016 presidential election. She said, according to The Hill:
Yes, of course, Trump is divisive, think about female voters alone, right? I think it was in 2012 the Republican Party lost the female vote by 12 points; that is a huge number and with as misogynistic as Trump is, and so vocal about it, that is a huge chunk of it. You're not just voting for a woman, if it's Hillary, because she's a woman, but certainly — as Trump has made it easy to see — that you don't really want that kind of world that he's painting.
Yep, the royal definitely knows her stats. Talk about impressive.
On Why Voting Is Important
In an October speech about the women's suffrage movement in New Zealand, Markle had this to say about why voting is so important, according to The Cut:
Women's suffrage is not simply about the right to vote for women. But also about what that represents: the basic and fundamental human right of all people. Including those members of society who have been marginalized, whether through reasons of race, gender, ethnicity or orientation, to be able to participate in the choices for their future and their community.
When the Duchess of Sussex eventually becomes a British citizen, it likely won't change her passion about democracy and the voting process. Markle — through her actions and words — has proven countless times before that she cares about elections in the United States — and around the world.