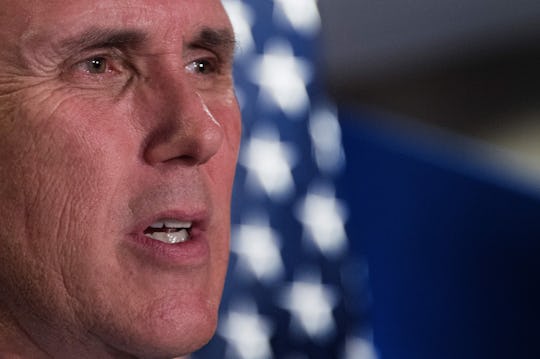 JIM WATSON/AFP/Getty Images
Everything Mike Pence Looks Like, According To The Internet
For some, especially for those who've made up their minds about November's election already, the vice presidential debates have super low stakes. Whereas undecideds might be listening closely as Mike Pence and Tim Kaine discuss the national debt or Donald Trump's tax returns, some viewers would rather devote their time to other "political" endeavors such as, say, finding doppelgängers for the candidates gracing their screens. A quick search on social media will turn up everything Mike Pence looks like, according to the internet.
The 90-minute debate began with a question regarding what makes each respective candidate a qualified representative, should he need to take over the presidency. From then on, Pence and Kaine proceeded to talk over one another while sitting at a roundtable at Longwood University in Farmville, Virginia. Early on, debate moderator Elaine Quijano even needed to ask the men be more respectful in their speaking, noting that the viewers at home likely could not comprehend what either one was saying. Throughout the debate, the men proceeded to speak over one another, perhaps encouraging some listeners to tune out and seek solace on Twitter.
The internet seems to think that Pence has quite the range, resembling everyone from Eminem to an admittedly disproportionate number of famous TV and film villains. The silver white hair and angular features do, admittedly, give off that bad-guy vibe. See all the spot-on comparisons for yourself:
Is it his constantly furrowed brow that makes Pence look angry or scheming? Perhaps it's his piercing eyes that do the trick. Maybe, even, it's the slow, unaffected drawl that he speaks with, controlling the conversation. Regardless, patrons of the internet are willing to call it like they see it, especially when the man in question is paired with a running mate who's said some, let's face it, villainous statements regarding women and minorities.
Kaine, by contrast, appeared a bit more flustered than Pence during the debate. The Los Angeles Times even granted Pence a unanimous first-round win. Donald Trump was quick to praise his vice presidential pick for his performance, even joining in on the comparing-candidates-to-bad-guys-game by retweeting the following:
Seeing as the overall implications of the vice presidential debates are pretty small, it makes sense that the internet is just using the occasion to meme-out together. Rather than focus on the terrifying prospects that the general election holds in November, viewers have tapped out for now and fixating on superficial details.