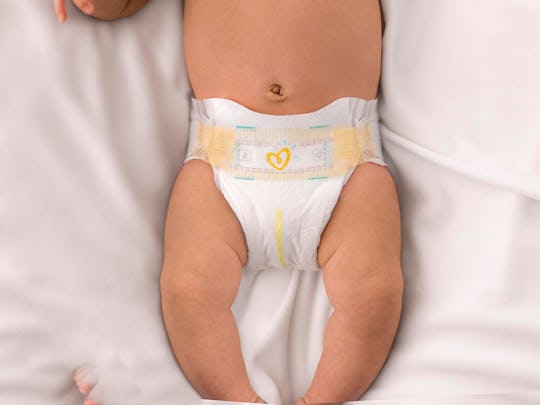 Courtesy of Pampers Swaddlers
Everything New Moms Need To Know About Choosing A Diaper For Your Baby
It's not until you come face to face with the reality of shopping for diapers that you realize the options feel infinite. With so many brands and sizes, how in the world are you supposed to narrow your selection down to the one that you know is going to keep your baby comfortable and keep any and all messes contained?
While finding the perfect fit may take a bit of trial and error, there are definitely a few must-have attributes to look for while you're shopping. Take Pampers Swaddlers for instance, which include a super helpful color-change wetness indicator that takes any bit of guesswork out of determining if it's time for a change. It may sound simple, but trust me: Once you get used to being able to make a quick diaper change after just a glance, you'll never be able to go back.
To help new moms learn the few easy-but-important features of a finding a diaper you can trust, Romper partnered with Pampers Swaddlers to outline exactly what you should be looking for. Check out the chart below for the expert breakdown, then stock up on the best fit for your little one.
This post is sponsored by Pampers Swaddlers.