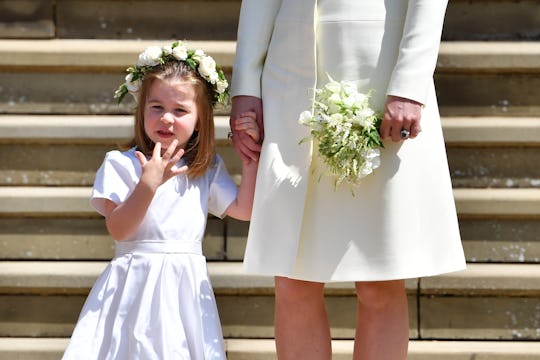 WPA Pool/Getty Images Entertainment/Getty Images
All The Ways Princess Charlotte & Meghan Markle Are Two Of A Kind
As the world looked on, Prince Harry and Meghan Markle exchanged vows on May 19. The royal family seems to have enthusiastically embraced Markle as one of their own since then. And although the dynamic between members of the royal family have undoubtedly changed following their highly-anticipated marriage, it turns out the Duchess of Sussex actually has a lot of similarities with one in-law in particular: Princess Charlotte. In fact, here's everything Princess Charlotte and Meghan Markle have in common. Because they're totally two of a kind.
Now, you might be sitting there while scratching your head and thinking, "Wait, what? What could a 37-year-old possibly have in common with a 3-year-old — let alone a U.S.-born commoner who is now a duchess and a little princess who was born fourth in line to the royal throne? (Besides an assumed fondness for Peppa Pig; because let's face it, everyone loves that cheeky piggy.) As far-fetched as it may seem at first, it turns out there's actually plenty that Meghan Markle and Princess Charlotte happen to share. Don't believe me? Aside from the fact that they're now both members of the royal family, let's make a run-down of all the things they have in common. Like ...
Their Affinity For Animals
It's no secret that Meghan Markle is an animal lover. Before marrying Prince Harry, she had two dogs of her own, according to People. And recently, she and Prince Harry adopted a black lab, according to E! Online. In addition to Prince William and Kate Middleton's family dog — a cocker spaniel named Lupo — apparently, they added a hamster named Marvin at one point, Hello! magazine reported. In 2016, the Duchess of Cambridge shared about this particular pet while opening the new Magic Garden at Hampton Court Palace. A 9-year-old girl named Darcey said Middleton had opened up a bit about Marvin while chatting with school children during the event. "She said she had a hamster, and Charlotte really likes it because the whiskers always tickle her face," Darcey said, according to the publication.
Their Fierce Fashion Sense
Granted, Princess Charlotte's wardrobe is probably still picked out by her mother at this point — but you have to admit, both her style and Markle's style are pretty on point. Just look at the photo above and the photo below. Enough said.
Their Passion For Cooking
According to Express, it was Markle's cooking/baking abilities that likely helped her get in the royal kids' good graces. "An avid cook, Meghan often pops around to visit with Kate and the kids dropping off treats," a source told ET. Additionally, the Duchess of Sussex used to write frequently about her favorite recipes on her website, The Tig (which has sadly been deleted), according to the publication.
Apparently, the royal children already love helping their mom in the kitchen, as E! Online reported. While visiting St Luke's Community Centre — where she helped prepare food for the Commonwealth Big Lunch — Middleton was talking with one of the members there. "I've done that with George and Charlotte — making pizza dough," she said, according to Hello! magazine. "They love it because they can get their hands messy." So who knows? Perhaps Markle and Princess Charlotte will be whipping up something tasty in a kitchen together sometime soon.
Their Love For Prince Harry
Okay, it's not like Markle's love for Prince Harry needs to proof — I mean, she married the man, after all. (Plus, their rampant PDA makes it pretty obvious.) Although Princess Charlotte has yet to make any official statements about, well, anything, it's clear that Prince Harry has a strong bond with his niece and nephews. During a June 2017 interview, Prince Harry said that he had no grudges against his niece and nephew for bumping him down in the line of succession. "The reason I am now fifth is because of my nephew and niece and I could never wish them away ... They are the most amazing things ever," he said, according to the Daily Mail. (Clearly, there's not a hint of a Scar-Simba relationship going on here in the slightest.)
Their Making Royal History
Meghan Markle is widely known as the first biracial woman to have married a British royal. (Although it's difficult to know this for sure, as Time pointed out.) She was also the first royal bride to walk herself down the aisle — because she's a bad*ss feminist. Princess Charlotte, meanwhile, become the first British royal to take advantage of a new rule allows her to keep her place ahead of her younger brother, Prince Louis, in the line to the throne, according to Elle. This is all thanks to the Succession to the Crown Act of 2013 — which decidedly makes Princess Charlotte a bad*ss feminist, as well.
As you can see, the Duchess of Sussex and Princess Charlotte already have a lot in common — and I have a feeling they're pretty much destined to have a special aunt-niece relationship as Charlotte grows older. In the meantime, Markle continuing to woo the royal kids with delicious baked goodies probably wouldn't hurt, either.