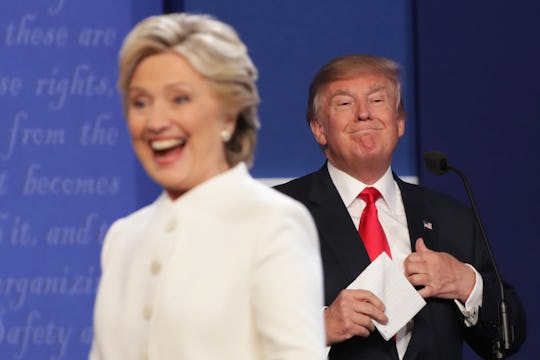 Chip Somodevilla/Getty Images News/Getty Images
This Is Why Trump's Retweet Of Hitting Hillary Clinton With A Golf Ball Is A Problem
In a rather unnerving and disturbing move — yet shamefully expected — President Donald Trump is once again using Twitter to seemingly advocate violence. And this time, it was specifically against his former political rival. Indeed, on Sunday, his target was Hillary Clinton, retweeting a GIF that made its way into the feeds of his millions of followers. And the content of which is enough to — again — stop you in your tracks. Really, Trump's retweet of him hitting Clinton with a golf ball is so incredibly wrong and sets a dangerous example and standard.
Why? In short, it's one thing when legions of Trump's nobody fans develop and propagate such content. But it's quite another, much more insidious issue when the POTUS himself engages in this dialogue it, too.
On Sunday, Trump embarked on a bona fide retweet frenzy, sharing other users' sycophantic tweets that pander to Trump's outsized ego. Three of them — from an account called Trumpism 5.0™ — predict he will win every state in the 2020 presidential election, credit him with improving the state of the stock market, and depict a regal-looking train wearing Trump's signature "Make American Great Again" hat.
But the tweet that piqued the most controversy of the day compliments his golf swing. "Donald Trump's amazing golf swing," user @Fuctupmind captioned the GIF, which includes video doctored to make it look as though a golf ball Trump hit smacked Clinton in the back and caused her to pitch forward and fall as she boarded a plane.
Romper has reached out to the White House for comment regarding the president's retweet and has yet to receive a response.
In reality, the footage of Clinton's fall is from a 2011 trip to Yemen she made as secretary of state, according to The Washington Post. But such images from uber-conservative Trump lovers don't crop up because they reflect reality; rather, people like @Fuctupmind hate Clinton so much that some of them probably do wish to do her harm. They're fueled by Trump's frequent and impassioned verbal and tweeted attacks on her, and they're emboldened when he validates their taking it all a step further by sharing GIFs, such as the golf ball one. And that is deeply distasteful and troubling behavior from the man whom this country (somehow) elected to lead us.
This retweet is especially problematic because it appears that Trump has made a habit of inciting violence. During the presidential campaign, he appeared to encourage gun violence against Clinton. In July, he retweeted a GIF of himself physically attacking a man with a "CNN" logo superimposed over his head at at WWE match, which came across to many as a threat of violence against the news network. And his behavior has had real-world consequences. His relentless caustic rhetoric about immigrants and Muslims, for example, is widely believed to have caused reports of hate crimes throughout the country to skyrocket after he unexpectedly won the 2016 election, according to NBC News.
Trump's propensity to retweet accounts that support him is bad for America's psyche, too. In the particular case of @Fuctupmind, Trump opted to share a clearly inappropriate tweet depicting violence against Clinton. But, in a way, he also validated an account brimming with bigoted sentiments.
According to BuzzFeed News, @Fuctupmind has promoted anti-trans, anti-LGBT, anti-Semitic, anti-Black Lives Matter, and racist views in his tweets. (The user also reportedly promotes the discredited conspiracy theory that the Democratic National Committee had one of its own staffers murdered in his bio.)
When Trump elevates such an account, he in turn endorses views that denigrate so many Americans. That's not a great look for a man who has already refused to condemn white supremacists, as Mother Jones reported.
Sadly, though, this is the kind of behavior that Americans have come to expect.
Watch Romper's new video series, Romper's Doula Diaries:
Check out the entire Romper's Doula Diaries series and other videos on Facebook and the Bustle app across Apple TV, Roku, and Amazon Fire TV.