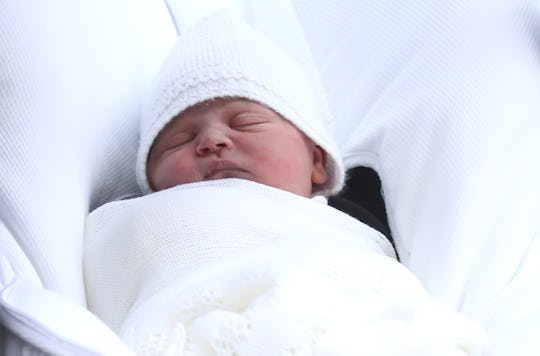 Chris Jackson/Getty Images Entertainment/Getty Images
Everything The Royal Family Has Revealed About Prince Louis So Far
A little over a month ago, Prince William and Kate Middleton welcomed their third child — a baby boy. (Holy crap. Can you believe it's been that long already?) News of the royal prince's birth was heard around the globe, and everyone's eyes were on St. Mary's Hospital in London to catch a first glimpse of the newest royal baby. After introducing the little prince on the steps of the hospital, the royals returned home to Kensington Palace — and we haven't heard much about the newborn since. So in honor of his one-month milestone, let's take a look at everything the royal family has revealed about Prince Louis so far.
Although fans weren't left waiting for too long after the newest royal baby's birth, the Duke and Duchess of Cambridge did keep the world in suspense for four whole days before revealing the royal baby's name: Prince Louis. Since then, Kensington Palace has shared a couple of official portraits of the young prince. But honestly, that's about it. Aside from a few quotes from Prince William concerning the newest addition of the royal family, we've basically been left twiddling our thumbs. Which is completely understandable; William and Kate have every right to keep their kids' lives private for as long as possible — especially during those first few months of bonding. With this in mind, let's take stock of what we know so far.
His Full Name & Title Are A Mouthful
The newest royal baby will be known as His Royal Highness Prince Louis of Cambridge, USA Today reported. (Which, for the record, is pronounced like LU-ee and not LU-iss, People reported.) However, his full name is Louis Arthur Charles. So put it all together and you've got His Royal Highness Prince Louis Arthur Charles of Cambridge, per the baby's birth certificate. Let's just say I wouldn't want to have to fill out a bubble form for that. Like, ever.
He Was Born On A National Holiday
Prince Louis was born on April 23, 2018 — which also happened to be St. George's Day, Time reported. This day celebrates England's patron saint, St. George. According to the publication, "St. George was tortured under Roman Emperor Diocletian's persecution of Christians in 303, but he refused to give up his religious beliefs, making him a martyr and Christian hero." Although St. George's Day isn't technically a day off work for those in the UK, it's still signifiant that Prince Louis was born on this holiday.
His Name Holds Special Familial Meaning
As E! Online reported, Prince Louis' full name — Louis Arthur Charles — has so many familial ties, it's insane. Let's start with his first name, which he shares in part with his father and brother. (William's full name is William Arthur Philip Louis, and Prince George's full name is George Alexander Louis.) Prince Louis' middle names — Arthur and Charles — also hold a special meaning. His grandfather, Prince Charles' full name is Charles Philip Arthur George. Plus, Arthur is one of William's middle names and one of Prince Harry's middle names. And let's not forget the name Arthur. Does "King Arthur" ring a bell? I thought so.
He Was Born At The Private Lindo Wing Of St. Mary's Hospital
And so were both of his siblings, his father, and Uncle Harry, Express reported. The Lindo Wing is a top-of-the-line, private wing at St. Mary's hospital in London — and it's not exactly cheap, either. But only the best for the royal family, right?
He Went Home From The Hospital Only 7 Hours After Birth
Prince Louis was born on April 23 — and he went home on April 23 as well, People reported. Although this may seem like an incredibly quick turnaround by U.S. standards, it's actually fairly normal for UK moms and babies, according to the publication.
He Is Fifth In Line To The Royal Throne
Queen Elizabeth II, obviously, is the reigning British monarch. Next comes her oldest son, Prince Charles, followed by Prince William, Prince George, Princess Charlotte, and finally Prince Louis, Metro reported. As USA Today reported, Louis is actually the first prince who is affected by a change in British law (made in 2013) that made birth order more important than sex when it comes to the line of succession to the royal throne. Before this change, Prince Louis would have been fourth in line — ahead of his older sister.
He Outweighed His Siblings At Birth
Kensington Palace announced on the day of the prince's birth that he weighed in at 8 pounds, 7 ounces. For the record, that's heavier than either Prince George or Princess Charlotte when they were born, Metro reported. Prince George was 8 pounds, 6 ounces, and Princess Charlotte weighed in at 8 pounds, 3 ounces.
He's Reportedly A Good Sleeper ... Or Not
Just two days after Prince Louis' birth, Prince William stepped out for his first post-baby public appearance. He attended an Anzac Day Service of Commemoration and Thanksgiving at Westminster Abbey, Us Weekly reported. As he arrived for the event, the Duke of Cambridge provided an update on his third child, during which he mentioned the newborn prince is a decent sleeper. "Sleeping's going reasonably well so far, so he's behaving himself which is good," Prince William added, according to Us Weekly. Interestingly, William was caught dozing off on camera during the event, The Sun reported. You know, not long after making this bold statement about his newborn son's sleeping habits.
He's Freaking Adorable
Two portraits were recently released of Prince Louis, and it's officially confirmed: He is definitely a cutie. (And his cheeks look so kissable!) The photos were shared via Twitter by Kensington Palace, HuffPost reported, and Kate Middleton was given photo credit. The first shot was of the newborn prince adorably staring off-camera while being propped up with a pillow. And the second shot featured Princess Charlotte giving her sleeping baby brother a kiss on his head. Too precious!
And there you have it! I have a feeling as time goes on, the Duke and Duchess of Cambridge will gradually share more tidbits about their third child with the world. (While still keep relatively private, as with their older two children.) For now, all we have are a handful of photos and the basics. But that's still more than enough to fall head-over-heels for the newest little prince.