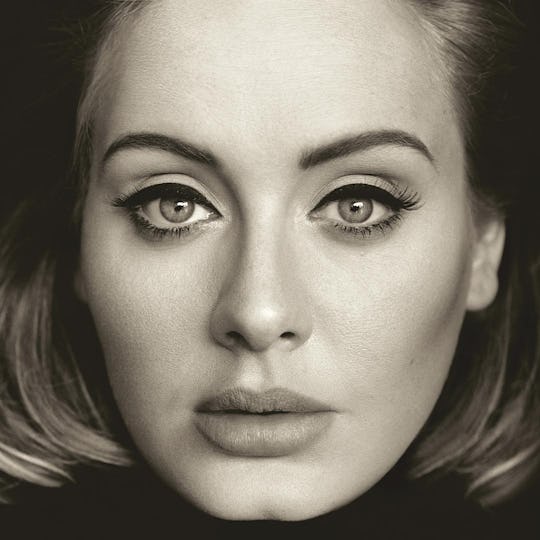 Everything We Know About Adele's New Album So Far
There's been quite a lot of build up for Adele's next album, 25. It seems like the world's been holding its breath since she dropped the glory that was 21. In May 2014, the day before her real 25th birthday, Adele posted an enigmatic message: "Bye bye 25... See you again later in the year x," leading everyone to believe the album would be out by the end of the year. We kept waiting... and waiting. But, it looks like that wait is finally almost over, and because we can't wait we've rounded up some details about Adele's 25.
While it's easy to speculate about why the album has taken so long, Adele told Rolling Stone that life just happened. But life, specifically the birth of her son, is also the reason she's returned to music.
"I think actually the pregnancy was perfect timing in the end. It might've seemed like the most ridiculous time to have a baby, but I was starting to get a bit afraid of everything...When I had him, it made everything all right, and I trusted everything because the world had given me this miracle...I don't know if I would've come back had I not had my kid."
So now that she's made her big return, what do we know about the album thus far?
It Leaked, But That Doesn't Mean You Should Listen To It
Sigh. Of course it happened. Adele's 25 leaked ahead of its release, but that doesn't mean you should be heading to find it. Instead, wait for it to come out officially on Friday, and enjoy it the legal way! You love Adele's music, so you might as well support Adele the right way.
This Is Probably the Last "Age" Album
In an interview with Beats 1's Zane Lowe, Adele said, "I think this will be my last age one, definitely." 25 follow 21 and 19, all of which have been named after the singer's age, but she's says she's changed. She's become a parent, she has responsibilities. In short, she's all grown up.
And of course I'm always gonna change my opinions on things and change my feelings of myself and for other people and stuff, but I feel like the idea of calling albums after my age is always to sort of show a photograph, almost, of what was going on in my life then and there. And I feel like not that much is going to change profoundly in me from now on, in terms of like how important years of my life are to myself.
"Hello"
"Hello" is our first taste of the album, and the video is a flip-phoning, anthemic whirlwind. Back in October, a snippet of the song was teased in a UK commercial, a clip was featured during The X Factor, and then a few days later, the video was released to the world and it broke the Internet. That's what happens when you wait three years to release a new single, Adele. The people get RABID.
"When We Were Young"
On Nov. 16, four days before 25's release date, Adele leaked a preview of her collaboration with Tobias Jesso, Jr., and it, too, is amazing. "When We Were Young" is like "Hello" in that it's a nostalgic and heartbreaking ode to moving on (I'm sensing a theme...), which always makes for great music.
Collaborators
For 25, Adele collaborated with some seriously heavy hitters: OneRepublic's Ryan Tedder, who co-wrote and produced her song, "Rumour Has it"; Ariel Rechtshaid, who produced "When We Were Young"; and Tobias Jesso, Jr. (see above). She also worked with Bruno Mars, who co-wrote "All I Ask," and the man behind most of Katy Perry's hits and Taylor Swift's 1989, Max Martin.
The Tracklist
So, we don't have a lot of information to go on, but here's the released tracklist. Behold:
1.) "Hello"
2.) "Send My Love (To Your New Lover)"
3.) "I Miss You"
5.) "Remedy"
6.) "Water Under the Bridge"
7.) "River Lea"
8.) "Love in the Dark"
9.) "Million Years Ago"
10.) "All I Ask"
11.) "Sweetest Devotion"
The album hasn't even come out yet and it's already breaking records. So sit back, relax, and put "Hello" on repeat in anticipation until Friday.
Image: Columbia Records (2)