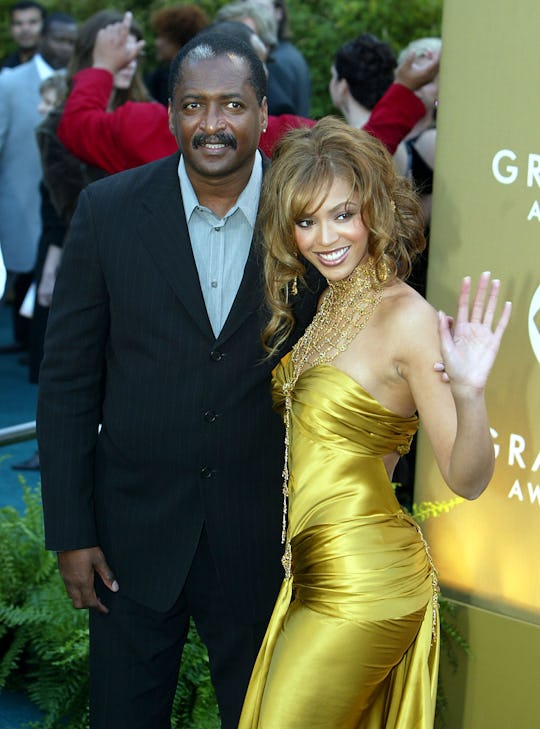 Kevin Winter/Getty Images Entertainment/Getty Images
What We've Learned About Beyoncé's Twins From Her Dad
Even in the month after their new babies' births, Beyoncé and JAY-Z have been frustratingly quiet about any and all details. Given all this extreme secrecy, it's no wonder that any "leaked" info is still a huge deal for fans. The majority of the info seems to be coming from someone inside the family, aka Mathew Knowles, Beyoncé's dad. Here's everything we know about Beyoncé's twins, from her dad's hints, because he's honestly the best informant we've got going for us at present.
Mathew's first comments confirmed, for the first time, that Bey's twins were actually born. On Sunday, June 20 (aka Father's Day), he took to Instagram and posted a photo with the caption, "They're here! #beyonce #twins #jayz #happybirthday." Making things a little more personal (and less hashtagged), Mathew included a photo of a digital card that wished "Happy Birthday to the twins! Love, Granddad." While this was the only "semi"-official confirmation of Beyoncé and JAY-Z's twins' births, further confirmation came when Tina Knowles Lawson (Beyoncé's mom) and Mathew's mother each threw the post a like as well.
Mathew's next hint? A Fourth of July Instagram video. This time he was a little more subtle but, let's be honest, the implications were abundantly clear. "Did you know that TWINS run in our family??? I didn't," his caption read, promising more surprising Knowles revelations in a forthcoming book that he'll be releasing. "My grandmother, Hester," he told his followers, "actually had brothers that we[re] twins, Sidney Moore and Gitney Moore." As if all of the allusions weren't enough, he ended the video with this: "Twins run on my side of the family, and Beyoncé should be proud of that."
You can watch his video below:
Mathew isn't wrong about these strong family ties; Fraternal twins are genetic so, in a way, he's may be confirming that Beyoncé had one boy and one girl. The Knowles-Carter lawyer filed to trademark Rumi Carter and Sir Carter, so all of pieces of the puzzle are definitely coming together, albeit pretty slowly.
Obviously, this isn't Mathew's first time as a grandparent, but it's probably the first time he's had to keep new baby info so desperately under wraps. In addition to 5-year-old Blue Ivy Carter, he also has a grandson from daughter Solange Knowles, 12-year-old Daniel Julez Smith, Jr.
It seems that, if you're looking to get a sneaky a bit of info on JAY and Bey's new babies, Mathew's social media accounts might a good place to start. So far, he hasn't released any super surprising info, but the fact that he's been the only one to confirm much of anything makes his little moments more helpful.