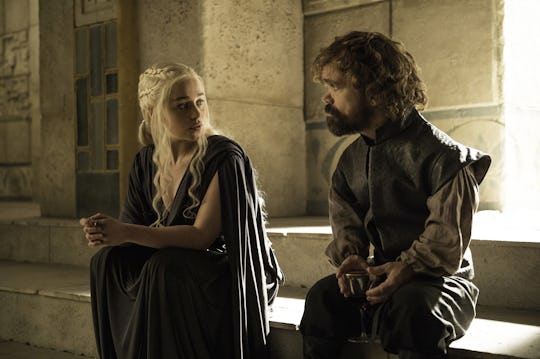 Helen Sloan/HBO
Here's Everything We Know About 'Game Of Thrones' Season 7 So Far
Over the past year, the Game of Thrones cast and crew have been dropping hints about the seventh season, probably to keep diehard fans satisfied with waiting until July to get their next Westeros fix. So to help tide you over during this final, brutal phase of waiting, here's everything we know about Season 7 of Game of Thrones so far — plus a few things we can only speculate about.
So let's get all the obvious things out of the way first: we know there are only 13 episodes left in total (depressing, I know), and that they'll be split into a seven-episode Season 7 and a six-episode Season 8. We know that it will premiere on Sunday, July 16, thanks to a Facebook livestream of ice melting. It has also been confirmed by various cast members that many of the main actors will be getting a lot more screen time this season, which makes sense considering, I don't know, the fact that half the cast was killed off at the end of Season 6. Additionally, we know that the pace is really going to pick up this season, with actor Nikolaj Coster-Waldau telling Entertainment Weekly that "a lot of things that normally take a season now take one episode."
That's all well and good, but if you're like me and you can't stand waiting another month to see what Dany, Jon Snow, Tyrion, and the rest of these characters are up to, here is some of the more interesting stuff that's been divulged over the last few months.
The Episodes Will Be Super-Sized
Entertainment Weekly has learned that the Season 7 finale will be GoT's longest episode ever, coming in just shy of 90 minutes. "We have two episodes over 60 minutes this year," showrunner Dan Weiss told the outlet, while co-showrunner David Benioff added that "one will be our longest episode ever — it's coming in around 90 minutes." No complaints from here!
Daenerys Finally Makes It To Westeros
After 6 years of watching the Mother of Dragons and her crew slowly inch across the Dothraki Sea and the Red Waste, and then even more slowly inching back west around Slaver's Bay, it looks like Dany has at last reached her final destination. In the trailer, she can be seen stepping onto Westeros soil at Dragonstone, the ancient home of the Targaryens.
The Unsullied May Face Off Against the Lannister Army
Well, we always knew there would be fighting when Daenerys arrived — no matter who sat on the Iron Throne. You can bet that Cersei won't go down easy either. In a few quick shots from the trailer, viewers can see a whole bunch of Unsullied rushing in to fight red-clad soldiers, presumably the Lannister Army. There's no way to tell what the result will be, or when in the season it will happen, but one thing's for sure — war is coming.
Lyanna Mormont Will Be Back
Lyanna Mormont, the adorable, badass child ruler of Bear Island, will definitely be reappearing for Season 7 after only a handful of episodes in Season 6, as seen in part of a series of promotional photos HBO dropped in April.
Ed Sheeran Will Have a Cameo
That's right — come July, look out for musician Ed Sheeran making a cameo appearance in Game of Thrones. According to Entertainment Weekly, showrunners David Benioff and Dan Weiss have been trying to get Sheeran on the show for some time now, as a surprise for actress Maisie Williams, who is a fan.
Yara Greyjoy & Ellaria Sand Meet
In a very brief shot from the trailer, fans can see Ellaria Sand leaning in to kiss Yara Greyjoy. Since last we saw her, Yara was making her way back across the sea with Daenerys, so it's unclear how their paths will cross. All I can say is that I'm sorry to anyone hoping for a Yara/Daenerys relationship. That ship may be sailing.
Arya May Return To Winterfell
Every time Arya has tried to go back home, it seems like she gets pushed further and further away. But in a recent photoshoot with Entertainment Weekly, one particular photo may have some people thinking she might just make it back to Winterfell after all. As Vanity Fair astutely points out, Maisie Williams' EW cover photo shows her holding a knife, which appears to be the same one that was used on Bran by an assassin back in Season 1. Last we saw, this knife was in the possession of Littlefinger, who, of course, is now at Winterfell. Sure, it's possible that Arya could run into him elsewhere, but you can pretty much bet that knife will end up being important.
Jon Snow Has His Priorities In Order
After a set visit back in October, the Toronto Sun released a few spoilers about the first episode of Season 7. If you were hoping for a Jon/Dany meet-up (aren't we all?), it's not going to come right away. Rather than worrying about the political squabbles in the South, Jon's focusing on the big picture, i.e. the giant horde of scary ice zombies bearing down on Westeros from the North. The Toronto Sun revealed that one scene in Season 7's first episode will show Jon at Winterfell, alongside Tormund Giantsbane, Brienne of Tarth, Ser Davos, and his sister Sansa, discussing how to combat the frosty army.
(Dragon) Heads Will Roll
Sadly, we don't know which dragons. The Toronto Sun revealed one more spoiler: the Game of Thrones props department has constructed 40 dragon skulls of different sizes for a scene shot in Spain. Apparently, constructing physical models had to be done instead of using CGI, as "there will be action taking place around — and possibly on — the mammoth props." With no other clues as to what the scene could be, all we can hope for is that none of those skulls belong to the three dragons we've grown accustomed to.
It's Going To Be An Unforgettable Season
But I mean, this is Game of Thrones we're talking about, so that's pretty much a given, isn't it.
Game of Thrones Season 7 premieres on Sunday, July 16 at 9 p.m. ET on HBO.