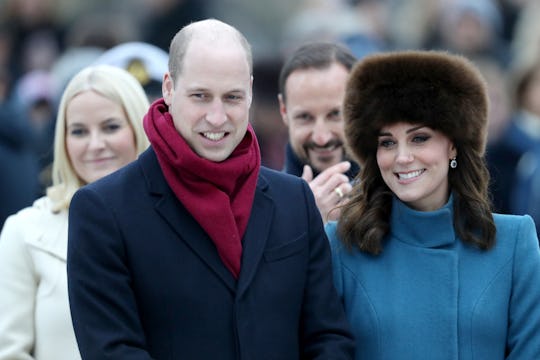 Chris Jackson/Getty Images Entertainment/Getty Images
Everything We Know About Kate Middleton & Prince William's Third Baby So Far
As the middle of April draws near, so does anticipation for the arrival of the Duke and Duchess of Cambridge's third child. With a son or daughter expected to join older siblings Prince George and Princess Charlotte sometime this month, here's everything we know about Kate Middleon and Prince William's third baby so far.
Kate Middleton announced in September of last year that she was expecting, marking her due date sometime this month. Those who closely follow the habits and traditions of royal births estimate that she's technically due toward the end of April. Kate stopped doing appearances five weeks prior to giving birth to both Prince George and Princess Charlotte, and The Sun reported she stopped on March 22 of this year, explaining the timeline. Regardless, the Lido Wing at St. Mary's Hospital is already blocked off for whenever the next prince or princess wants to arrive.
Aside from the estimated due date, there's a lot fans and followers have been able to piece together about the royal baby's birth, from name predictions to how the birth will officially be announced. Though there are certainly some details that won't be revealed until after the baby arrives, thanks to royal traditions, there are others fans can certainly count on.
1. The Baby's Sex Will Remain A Secret Until After Kate Delivers
As royal customs go, the baby's sex will not be revealed until after birth. The Daily Mail confirmed that, like the public, Kate and William also don't know the baby's sex. However, there are already many people taking bets on the name, weight, and date of delivery.
2. The Baby's Name Might Begin With The Letter "A"
The two top royal baby name predictions right now are "Alice" for a girl and "Albert" for a boy. Express UK explained that Alice is the top contender for a girl's name due to its history: the Duke of Edinburgh's mother was called Alice, and Princess Alice was also the third child and second daughter of Queen Victoria and Philip's great-grandmother. As for Albert, Queen Victoria used to "insist" that the name was used as a middle name by her descendants, in honor of Prince Albert. William and Kate are pretty traditional with their baby names, and Alice or Albert certainly fall into line with that.
3. The Baby Will Technically Be Born A Commoner
Despite the regal title (new babies are born as: His/Her Royal Highness Prince/Princess [name] of the United Kingdom of Great Britain and Northern Ireland), royal babies are actually born commoners at first. Town and Country Mag explained:
"It sounds complicated, but in the U.K, the only people who are not commoners are the Sovereign and peers of the realm, [people with titles like] Duke, Marquess, Earl, Viscount, and Baron," Koenig says. So Prince William is not a commoner, but Prince Harry is, though that could change if the Queen gives him a title in celebration of his May wedding to Meghan Markle.
4. The Baby Will Be Delivered In The Lido Wing Of St. Mary's Hospital
As she did with her other two kids, Kate Middleton will give birth to her third child in the famous Lido Wing, which The Week reported is already cleared out for her impending delivery.
It is the same place where Prince William and Harry were born, and in keeping with royal family rules, The Sun reported that royal fathers are banned from the delivery room, and that midwives are sworn to secrecy.
5. The Baby Is Due Sometime Between April 9 & April 30
Express UK reported that Kate typically stops making public appearances five weeks before she gives birth. She gave her last public appearance of this pregnancy on March 22, so the outlet predicted she's due around Thursday, April 26.
6. The Baby's Birth Will Be Announced On An Easel Outside Buckingham Palace, & On The Royal Family's New Website
Though fans will be waiting excitedly for the moment when Kate and William step outside the Lido Wing and introduce their baby to the world for the first time, the announcement will first be officially posted on an easel outside of Buckingham Palace, as well as on the royal family's new website, royal.uk/baby, Town and Country Mag reported.
7. Kate Middleton Has Joked About Having More Babies
For those who are disappointed that this pregnancy could be Kate's last, there's a glimmer of hope: she's made it clear that she and William want many kids. While at an event in Warsaw last year, Kate was given a gift for a newborn. "We'll just have to have more babies," she said, according to AOL.
Whether they do or whether they don't, the clock is ticking for the arrival of the royal newborn. Only time will tell how much longer the world will be waiting.