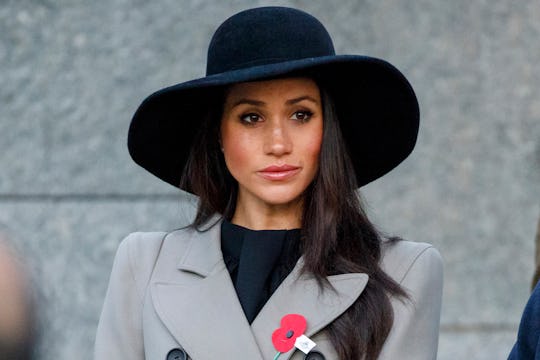 WPA Pool/Getty Images Entertainment/Getty Images
Here's Everything We Know About Meghan Markle's Family
Despite the fact that she's been starring on the hit USA drama Suits for the past seven years, most of the public probably doesn't know as much about Prince Harry's bride as they do about the royal family. Your average American can probably rattle off at least a few of Queen Elizabeth's heirs, but before she joins the Windsor clan, let's take a look at everything we know about Meghan Markle's family, which isn't nearly as buttoned-up as her in-laws.
Markle has mentioned her parents in interviews and essays in the past, revealing to Esquire that her father was a lighting director and director of photography for the Fox sitcom Married... with Children, and writing about her mother, Doria Ragland, in a Glamour essay entitled "The 10 Women Who Changed My Life." In it, Markle describes how Ragland taught her about balance. A yoga instructor and social worker, Ragland is a "free spirit" with a "life-long sensitivity to nurturing and caregiving," she wrote. "She's got dread locks and a nose ring. She just ran the LA Marathon. We can just have so much fun together, and yet, I'll still find so much solace in her support." Let's start with her, then, because she sounds pretty rad.
Doria Ragland
Markle also wrote about her mother's lessons on her now-defunct blog, The Tig. Balancing her acting with humanitarian work comes naturally, because Ragland taught her how to live simultaneously in two worlds.
My mother raised me to be a global citizen, with eyes open to sometimes harsh realities. I must have been about ten years old when we visited the slums of Jamaica. I had never seen poverty at that level and it registered in my glazed brown eyes. "Don't look scared, Flower," she said. "Be aware, but don't be afraid."
She recalled watching her parents, who grew up with little, give anything and everything they could to those who had even less.
This is what I grew up seeing, so that is what I grew up being: a young adult with a social consciousness to do what I could, and to, at the very least, speak up when I knew something was wrong.
One more thing: the Daily Mail reported that Ragland spent six hours at Oprah Winfrey's Santa Barbara mansion on Saturday, finally emerging with "a gift basket that contained some of Winfrey's favorite items." So she's definitely got stories.
Thomas Markle
Not too much is known about Markle's father, Thomas, other than his Married... with Children credits. He hasn't worked in the entertainment industry since 1996, according to his IMDb page, although he did score two Daytime Emmys before retiring. He now "lives a quiet life in Mexico," according to People, and all we've heard from him so far is a joint statement with Ragland, issued by Kensington Palace, wishing Harry and Meghan "a lifetime of happiness." He's reportedly spoken to the groom by phone, but they've yet to meet.
Samantha Grant
Before marrying Ragland and having Meghan, Thomas Markle was previously married with two older children. Samantha Grant (who has recently begun going by Markle again) is Meghan's half sister and an aspiring screenwriter 17 year her senior. The two haven't had any contact in the last decade. In April, she went on a Twitter rant about not being invited to the wedding, according to Cosmopolitan, and Us Weekly has reported that she's planning to go to London anyway to serve as a TV correspondent for the big event. She's also writing a book called The Diary of Princess Pushy's Sister, but she told People it's not actually a tell-all:
It has to do with the inter-racial evolution of this country through the lens of my life and my family since the Civil Rights Act until present, and how that intersects with this recent event with my sister.
She denies that she and Meghan are estranged.
Thomas Markle, Jr.
Grant's brother, Thomas Markle Jr., has been very frank about his feelings towards the future princess, last month he shared the following insights with the Mirror:
Meg likes to portray herself as a humanitarian, a people's person and a charitable person, but she is none of those things to her family. She is giving the greatest ­performance of her life. She is acting phony. Once she got into Hollywood, she turned into a different person. She's clearly forgotten her roots and her family. Maybe the normal American family she has is embarrassing to her, because we're not producers and executive producers.
Way harsh. And it gets even worse: on Wednesday, In Touch published an open letter from Thomas Jr. to Harry, in which he advises the prince not to marry Meghan, calling her a "jaded, shallow, conceited woman that will make a joke of you and the royal family heritage." Thomas Jr. has not responded to Romper's request for comment, and Markle's rep has not responded regarding her response to his remarks.
Throughout all of the media coverage, Meghan has stayed tight-lipped, as one would expect, but this must be something of a nightmare for her. As long as she continues to hold her head high (and get more awesome wisdom from her mom), she'll come out on top.