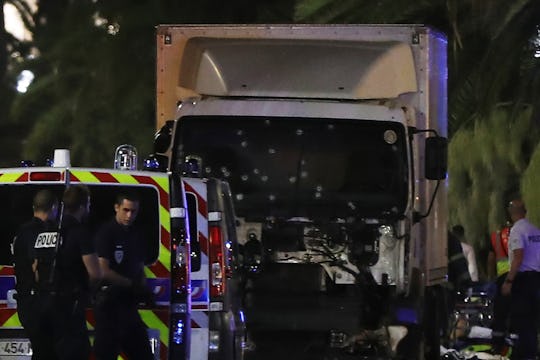 VALERY HACHE/AFP/Getty Images
Everything We Know About The France Crash So Far
At least 77 people have reportedly been killed in Nice, France after a truck accelerated through a crowd celebrating Bastille Day. Political leaders around the world are shocked by the scale and degree of the attack. In a statement, President Obama offered condolences on what "appears to be a horrific terrorist attack." Police opened gunfire on the driver, who drove the truck for over 2 kilometers (about 1 mile) through a densely populated street while firing at the crowd, swerving so as to maximize the amount of people hit. Over 100 people have been injured. The driver has reportedly been killed by police and the large truck that the driver used was found full of firearms and grenades.
Update: French President Francois Hollande announced Friday that the death toll had risen to 84 and at least 50 people were in critical condition "between life and death," according to ABC News.
Officials are now working to determine if the attacker was connected to anyone or to any terrorist organization, specifically ISIS. Gruesome descriptions of the scene depict horror and chaos, and images and video of the terror have been circulating online. In light of recent terror attacks, one which occurred this past November in Paris which killed 130 people and another attack which killed 11 in January 2015, the connection to a larger terror group, unfortunately, seems likely. Local authorities have asked people in the city to stay home until further notice.
Here's everything we know about the France crash so far:
Driver Has Been Identified
Two local news outlets report that the driver was a "31-year-old with dual French-Tunisian nationality."
Anti-Terrorism Police Are Handling The Investigation
Though no terror group has claimed the attack, it is being treated as an act of terror.
Families Are Searching For Loved Ones
The twitter account @NICEFINDPEOPLE was created to help spread news of missing people.
Attack Occurred On Promenade Des Anglais
The truck drove down by the shore where crowds were gathered to watch celebratory fireworks.
Trump Is Suspending His VP Announcement
Trump first tweeted: "Many dead and injured. When will we learn? It is only getting worse." His most recent tweet reads: "My prayers and condolences to the victims and families of the terrible tragedy in Nice, France. We are with you in every way!"
Events Have Been Cancelled
A Rihanna concert and local jazz festival were scheduled in Nice this weekend. Both are now cancelled.
Clinton Sought Understanding
Hillary Clinton called in to Fox News to share her thoughts on the attack, mentioning the "launch [of] an intelligence surge" as a way to combat terrorist groups.
France has endured more than its share of tragedy as of late. Authorities from all around the world are offering their support to Nice in this deeply saddening time. As those who've lost loved ones grieve, the world grieves with them.