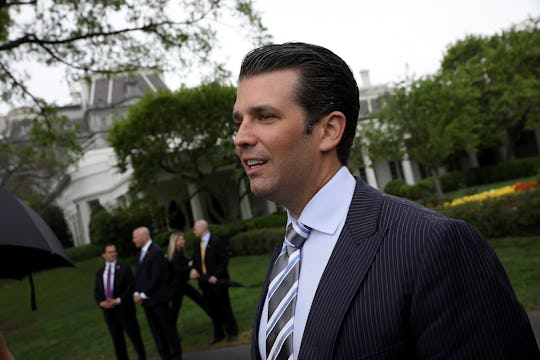 Win McNamee/Getty Images News/Getty Images
A Primer On The Trump-Russia Controversy
If there's something everyone can agree on, it's that 2017 has kind of been a little... confusing, to say the least. Since the inauguration of President Donald Trump, American politics haven't really been smooth sailing. Sometimes it honestly seems that each day brings with it a new scandal involving the Trump administration. And as news broke again on Sunday evening that Donald Trump Jr. met with a Russian lawyer, things have become even more convoluted and frustrating. So let's break it all down; Here's everything we know about the Trump-Russia controversy so far, because it's honestly ridiculous.
The latest development in the story of possible collusion between Russia and the Trump campaign/members of the administration features Trump's oldest son, Donald Jr., meeting with a Russian lawyer in 2016 after being promised damaging information about Trump's opponent, Hillary Clinton. (Romper has reached out to the White House for comments on these claims and is awaiting a response.) In any other situation, it would've been entirely explosive — and make no mistake, this is definitely surreal — yet, long before the news of that meeting broke, intelligence officials had already confirmed that Russia interfered in the 2016 presidential election, in more ways than one. The question now is, who helped them and why?
Both Republicans and Democrats alike agree that Russian interference in the 2016 election and possibly beyond posed and continues to pose a serious threat to our democracy. As of now, the entire story of what exactly happened is still unknown. But with stories like the one The New York Times broke on Saturday, and its further reports on Sunday, a fuller picture is finally starting to emerge.
Here's what we do know so far.
Donald Trump Jr. Met With A Russian Lawyer In June 2016
As The New York Times reported Saturday, and then again on Sunday evening, Trump Jr. allegedly met with a Russian lawyer who "promised compromising information about Mrs. Clinton." His reps have not denied the meeting took place.
The meeting was also attended by Trump's former campaign chairman, Paul J. Manafort (who was dismissed at the peak of the election), and Trump's son-in-law, Jared Kushner. In a statement about the meeting, Trump Jr. said:
After pleasantries were exchanged, the woman stated that she had information that individuals connected to Russia were funding the Democratic National Committee and supporting Ms. Clinton. Her statements were vague, ambiguous and made no sense. No details or supporting information was provided or even offered. It quickly became clear that she had no meaningful information.
The Lawyer Trump Jr. Met With Has A "History Of Pushing The Kremlin's Agenda"
Per The New York Times report, the lawyer that Donald Trump Jr. met with was Natalia Veselnitskaya, whose "activities and associations had previously drawn the attention of the FBI." Veselnitskaya allegedly told Trump Jr. that she would give him compromising information about Clinton, although neither Trump Jr. nor Veselnitskaya confirmed whether that information was actually shared during the meeting.
Veselnitskaya is also fairly infamous for "mounting a multipronged attack against the Magnitsky Act," as The New York Times reported. The Magnitsky Act is a bipartisan bill passed back in 2012 that seeks to serve justice for the death of Russian lawyer Sergei Magnitsky, who died "in mysterious circumstances in a Russian prison after exposing one of the biggest corruption scandals during Mr. Putin's rule," The Times reported. In short, it was meant to punish those allegedly involved with his death by putting them on a shortlist of "offenders," which obviously the Kremlin did not like. (Moscow responded by banning the adoption of Russian children by U.S. couples.)
Paul J. Manafort & Jared Kushner Were Also Present
As mentioned, both Manafort and Kushner were also present during the meeting with Veselnitskaya, although Veselnitskaya recalled, according to The Times, that "after about 10 minutes, either Mr. Kushner or Mr. Manafort walked out." Trump Jr. also disclosed that he did not inform Kushner or Manafort what the meeting was supposed to be about. Neither of the other attendees have previously disclosed the meeting when asked about any foreign contacts.
Since then, Kushner's lawyer has released the following statement:
Mr. Kushner has submitted additional updates and included, out of an abundance of caution, this meeting with a Russian person, which he briefly attended at the request of his brother-in-law Donald Trump Jr. As Mr. Kushner has consistently stated, he is eager to cooperate and share what he knows.
As for Manafort, no statement has been made regarding his presence at the meeting.
There Is No Current Evidence That Trump Himself Was Involved In Any Russian Hacking
As just about everyone in the Trump administration has made certain to inform reporters, Trump himself reportedly had no knowledge of the alleged meeting with the Russian lawyer. As The Times reported, a spokesman for the president's lawyer, Mark Corallo, said on Sunday that "the president was not aware of and did not attend the meeting."
Multiple Trump Administration Staffers Have Been Linked To Russia
Along with Kushner, Michael Flynn (who Trump fired), Jeff Sessions, Rex Tillerson, Carter Page, and Ivanka Trump have all been tied in some way to Russia and Putin, and several of them are currently under investigation for those alleged ties. Notably, Flynn was reportedly previously paid more than $65,000 by companies with extensive links to Russia.
If you're still confused at this point, don't worry — it's a pretty tangled web. The most important thing to understand is that things will only get more complicated from here on out — and no matter what happens in the end, it's bad news for everyone.