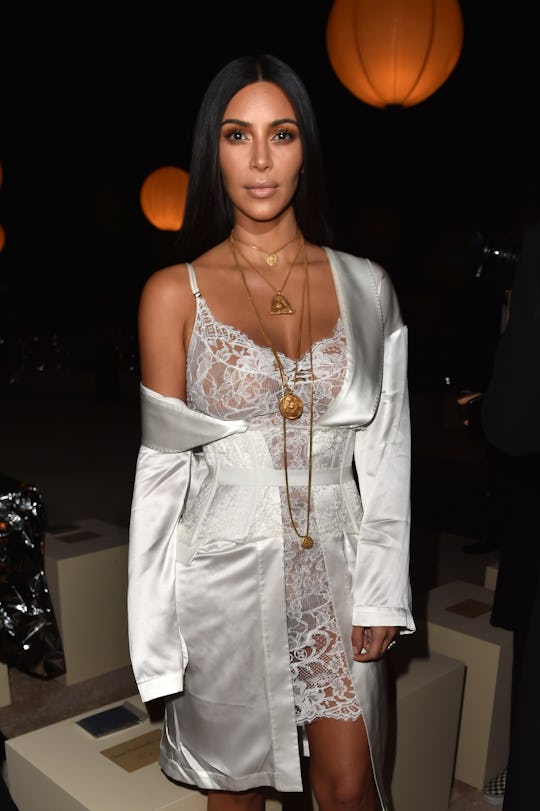 Pascal Le Segretain/Getty Images Entertainment/Getty Images
Everything You Need To Know About Kim Kardashian Being Robbed At Gunpoint
Kim Kardashian has arrived back in the United States following a terrifying robbery in Paris. The reality star had been visiting the French city for Paris Fashion Week, but in the early hours of Monday morning, a group of armed intruders dressed as police officers broke into her private apartment, and stole millions of euros worth of jewelry before escaping. Details of the harrowing ordeal — which Kardashian's rep said left her "badly shaken but physically unharmed" — have since emerged, and suggest the heist was well-planned and highly organized. Here's everything you need to know about Kim Kardashian being robbed at gunpoint.
According to The Guardian, the incident occurred at around 3 a.m. local time, after the assailants entered the hotel and threatened the concierge with a weapon and handcuffed him. They then entered Kardashian's apartment, put a gun to her head, tied her hands with packing tape, and left her in the bathroom, according to Reuters. A large jewelry box containing an estimated "5-6 million euros' worth" of items, as well as a ring "worth about 4 million euros" were stolen, along with other personal items, including "her purse, two cell phones and 1,000 euros," according to People. After giving her statement to police, Kardashian was escorted to the airport where she left on a private plane.
Earlier in the day, Kardashian attended the Balenciaga fashion show, and later went to dinner with her sister Kourtney Kardashian and designer Azzedine Alaïa, according to People. She then returned to her hotel and FaceTimed with her brother Rob Kardashian and fiancée Blac Chyna shortly before the robbery. Her children, North and Saint, were not with her. Kardashian's husband, Kayne West, was performing at a concert at the Meadows Festival in New York Sunday night when he was told about the incident. He abruptly ended his set, citing a "family emergency."
The robbers fled the scene on bicycles, according to Reuters, and are still reportedly at large. Police found the concierge in a stairwell, also with his hands and feet bound.
Earlier in the week, Kardashian had another security scare, when Vitalii Sediuk, who describes himself as an "entertainment Hollywood reporter," according to The Guardian, ran up to the reality star after she exited her vehicle and allegedly tried to kiss her butt in what he has since described on Instagram as a protest of her "fake butt implants" according to CNN. (Unsurprisingly, he was immediately tackled by her bodyguard.)
Sediuk claimed that he didn't actually know that Kardashian was going to be showing up at the restaurant he was sitting outside of, but that he seized the opportunity when she did. Kardashian isn't the first celebrity that Sediuk has attempt to accost though — a few days earlier, he tried to grab model Gigi Hadid and lift her in the air after she left a fashion show during Milan Fashion Week. Hadid made headlines for hitting back (which, uh, she absolutely had the right to do), later explaining to Lena Dunham in an interview for Lenny Letter that she "felt [she] was in danger," and that she wants "girls to see the video and know that they have the right to fight back, too, if put in a similar situation."
As completely horrifying as the story of the robbery is though, once the incident made news, a number of people on social media took it as an opportunity to make a joke at Kardashian's expense, or suggest that it wasn't that bad because she's rich and famous. As a result, many Twitter users have since rallied around Kardashian, calling out the fact that no one deserves to be held at gunpoint and tied up, left to fear for their life, regardless of the circumstance:
A number of celebrities, including Kardashian's pal Chrissy Teigen, and TV host James Corden also hit back against those making jokes at her expense, reminding people that, uh, she's a human who deserves compassion.
One person who has remained uncharacteristically mum throughout the ordeal however, is Kardashian herself. The usually-prolific social media sharer has refrained from commenting or posting about the robbery (likely because she is still reeling from the incident), as have her family members. It's not clear if she plans on breaking her silence, but either way, it must have been a total nightmare, and something no one ever deserves, celebrity or not.