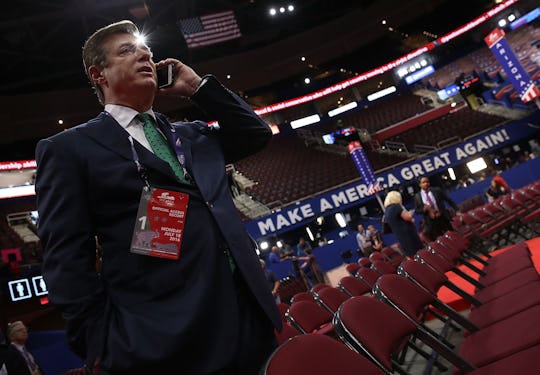 Win McNamee/Getty Images News/Getty Images
Everything You Need To Know About Paul Manafort
It seems like the Trump Administration can't keep its story straight when it comes to President Donald Trump's ties to Russia. An exclusive Associated Press report published Wednesday revealed that former Trump aide Paul Manafort once allegedly secretly worked with a Russian billionaire to benefit Russian President Vladimir Putin. AP's bombshell allegations contradict Manafort and the Trump Administration's repeated claims that the GOP operative had never worked for Russian interests. But who is Trump's former campaign chairman and why does he matter? Here's everything you need to know about Paul Manafort and his alleged questionable business dealings that include brutal dictators as clients. Manafort and the Trump Administration have not responded to Romper's requests for comment.
Manafort's connection with Russia runs deep. According to documents obtained by AP, the former Trump confidante devised a strategy as early as 2005 to manipulate "politics, business dealings, and news coverage in the United States, Europe, and the former Soviet republics" in order to advance the interests of the Putin government. Manafort made his proposal to Putin ally Oleg Depripaska, the Russian aluminum tycoon who hired Manafort under a $10 million annual contract beginning in 2006 and ending in 2009, the AP reported. Manafort confirmed to the news wire that he had business dealings with Depripaska, but denied his work involved "representing Russia's political interests."
But in a 2005 memo obtained by AP, Manafort reportedly wrote to the Russian business mogul:
We are now of the belief that this model can greatly benefit the Putin Government if employed at the correct levels with the appropriate commitment to success. [The strategy] will be offering a great service that can re-focus, both internally and externally, the policies of the Putin government.
Although AP's investigation is damning, it's not surprising. Manafort resigned abruptly in August as Trump's unpaid campaign chairman after multiple reports surfaced that he directed a covert Washington lobbying action in 2014 in support of the pro-Russia political party in Ukraine, according to CNN. On Tuesday, the Washington Post reported on financial documents released by a Ukrainian politician that allegedly show Manafort laundered payments totaling $12.7 million from disgraced former president Viktor Yanukoyvch's Party of Regions, which Manafort had worked with for nearly a decade.
Yanukoyvch is not the only controversial leader to which Manafort allegedly has ties. Politico reported last year that the lobbying and political strategist had tried to help then-Philippines dictator Ferdinand Marcos "retain his grip on power" in the 1980s. According to Politico, a Marcos front group allegedly hired Manafort and agreed to pay his firm $950,000 a year. It doesn't end there: Manafort had also been accused of accepting large payments through contracts with Zaire dictator Mobutu Sese Seko and former French Prime Minister Edouard Balladur, Politico reported.
Manafort has served as a top campaign adviser for former Republican presidents Gerald Ford, Ronald Reagan, and George H.W. Bush, as well as for former Senate Majority Leader Bob Dole's failed presidential bid. But he's also made millions as a principal of lobbying firm Black, Manafort, Stone, and Kelly helping "the 'Torturers' lobby" — meaning dictators and guerilla groups known to use violence to violate human rights — according to the Daily Beast. In addition to Marcos and Seko, Manafort's firm has also retained Angolan political and military leader Jonas Savimbi, who wanted U.S. financial support for his brutal guerilla army, UNITA (National Union for the Total Independence of Angola). The Daily Beast reported that Manafort's lobbying on behalf of Savimbi had paid off big time: In 1985, Dole convinced the State Department to send UNITA heavy arms, while the Reagan Administration gave the group $42 million from 1986 to 1987.
The FBI is currently leading a multi-agency investigation into Manafort's connections to Russia and his business dealings, according to Salon. The Washington Post reported that the White House has distanced itself from the 67-year-old GOP lobbyist, with Press Secretary Sean Spicer claiming in a Wednesday press briefing that President Trump didn't know of Manafort's clients from the past decade. Spicer also said there were "no suggestions" in the AP's investigation of any wrongdoing on Manafort's part, according to theWashington Post.
NBC News national correspondent Peter Alexander tweeted that Spicer told him it would be "inappropriate" to comment on the allegations against Manafort since he is "not a White House employee."
For some reason, the White House press secretary also roped former Secretary of State Hillary Clinton into his statement on AP's report. According to Talking Points Memo, Spicer called Clinton "the face of a failed Russia reset policy" and said that the Clintons "had much more extensive ties" to the Eastern country than Manafort does. It's obviously a deflection tactic to draw eyes away from the damning evidence that reveals more details about Trump's connection to Russia. But, damn, can the woman catch a break?