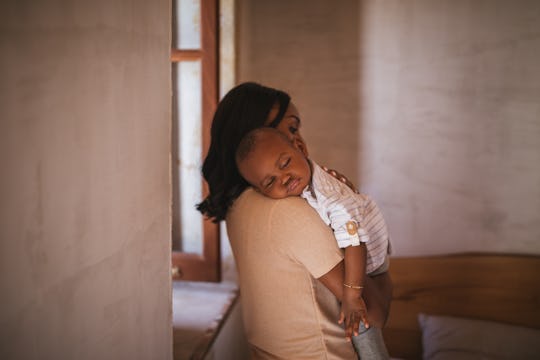 wundervisuals/E+/Getty Images
Everything You Need To Know About Sleep Training A 1-Year-Old
Once your child passes the 1-year mark, they're able to make their opinion known loud and clear, which sometimes makes sleep training them (specifically teaching them how to fall asleep on their own and stay asleep for a long stretch of time) a bit trickier than their younger counterparts. But, have hope — it is possible to sleep train a 1-year-old, but you'll want to mentally prepare yourself for the experience.
Of course, no child is exactly alike and sleep training will look differently for each family, but these tips cover the bases for dealing with an older baby. If you tried sleep training when your baby was a few months old but it didn't stick, you'll likely need to adjust your strategies now that they're technically a toddler and are set in their ways. "It is not too late, but it will be really hard because by 1, a solid routine has probably been established," Elizabeth Murray, assistant professor at Golisano Children's Hospital tells Romper on behalf of the American Academy of Pediatrics. Natalie Nevares, sleep consultant and founder of Mommywise works with parents of with babies and toddlers alike, and from her experience, there are key differences between the two age groups. "There are different obstacles," she says of dealing with the older set, from establishing new routines to dealing with all the safety issues that come with raising a curious, mobile toddler.
Some of these tips are pretty intuitive, but some of them you may not have thought of trying yet. Approaching sleep training with an open mind and some serious willpower will can make sure that both you and your tiny tot will make up all of that lost sleep in no time.