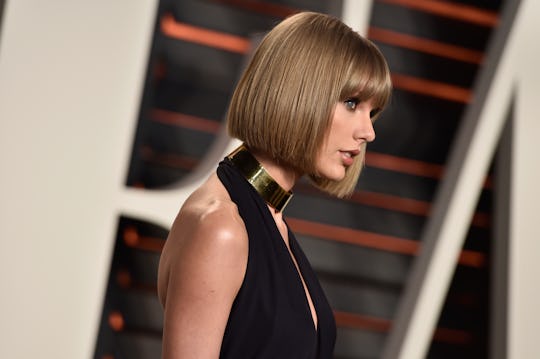 Pascal Le Segretain/Getty Images Entertainment/Getty Images
Everything You Need To Know About Taylor Swift's Alleged Groping Trial
Taylor Swift appeared in court on Thursday in Denver, Colorado, in a civil suit filed against her by 55-year-old David Mueller, a former DJ. Mueller and Swift have been engaged in a number of court battles since 2015, two years after Mueller allegedly groped Swift during a fan meet-and-greet. Here's everything you need to know about Taylor Swift's groping trial, as both Swift and her mother Andrea have testified about the alleged incident. Neither lawyers for Swift nor Mueller immediately responded to Romper's requests for comment.
Back in 2013, when Swift was just 23 years old, she attended a meet-and-greet with fans at her show in Denver, Colorado. Mueller, then a DJ with Colorado radio station KYGO, posed with Swift for a photograph. According to court documents, as Mueller posed with his girlfriend, Shannon Melcher, and Swift, Mueller allegedly slid his hand up under Swift's dress and groped her buttock. Mueller has denied the accusations, suing Swift in 2015 after he claims he lost his job at the radio station as a result of her allegations. Swift promptly countersued, claiming assault and battery against Mueller. Mueller unsuccessfully tried to have Swift's countersuit thrown out in August of last year.
After two years, both Mueller and Swift have now arrived at their day in court — and the entire case is concerning, to say the least.
The case is more than just a test of "he said, she said" — while Swift did not file a police report, she is standing by her accusation that Mueller groped her in 2013. Swift is only seeking $1 in damages in her countersuit, showing that for her, the case is less about monetary damages and more about her own integrity.
According to court documents obtained by BBC News, Swift's choice to only seek one dollar in damages serves "as an example to other women who may resist publicly reliving similar outrageous and humiliating acts." Meanwhile, Mueller is seeking upwards of $3 million in damages, citing lost wages as part of his claim that he was fired from his job after Swift reported the alleged incident to her employers.
In court Thursday, Swift testified before the jury, recounting her experience of what happened:
It was a definite grab, [a] very long grab. It was long enough for me to be completely sure it was intentional. He stayed on my bare ass cheek as I lurched away from him uncomfortably. The first couple of milliseconds, I thought it must be a mistake. I moved to the side very quickly. After this happened, a light switched off in my personality. I just said in a monotone voice, "Thank you for coming."
The photo of Swift and Mueller was leaked to TMZ. Mueller can be seen with his arm behind Swift's dress, but offers no other obvious signs that anything was amiss. Swift's mother Andrea, testified on Wednesday, that it was more than obvious to her that something had happened to her daughter, even when looking at the photo, People reported. "I knew there was something horribly wrong in that picture," Swift's mother testified. "I know those eyes better than anybody. She was pulling away."
Mueller is also expected to testify openly in court as well. Given that this is a civil suit and not a criminal one, there is a lower burden of proof, based on "the preponderance of the evidence" rather than "beyond a reasonable doubt" — so fans are eager to find out how this upsetting case will resolve.