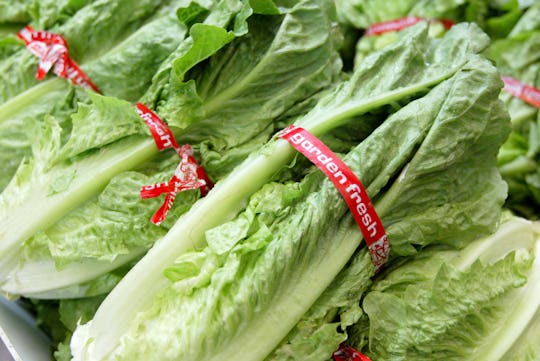 Justin Sullivan/Getty Images News/Getty Images
Everything You Need To Know About The E. Coli Outbreak Affecting Seven States
Everyone just wants what is safe for their families, in all aspects of life. Parents will go through lengths to protect their kids when it comes to their safety and you really can't blame them. It is a scary world out there and there are so many factors that contribute to feeling unsafe, especially when it comes to the things you consume. E. coli is one of those things in food that presents a danger to families, and because of this, parents might want to know about the E. coli outbreak affecting seven states so they, too, can protect their families.
The Centers for Disease Control and Prevention reported this week that there is currently an active E. coli outbreak across seven states, affecting 17 people total, according to Good Housekeeping. On Friday, the CDC confirmed that the outbreak could be attributed to chopped romaine lettuce (including the lettuce that comes in salads and salad mixes) that came from the Yuma, Arizona growing region.
This outbreak is spread over seven states, according to Time, all of which include New Jersey, Idaho, Connecticut, Pennsylvania, Missouri, Ohio, and Washington. So, people living in those states and general consumers of romaine lettuce should be on alert until the CDC says they're in the clear.
The CDC is also advising restaurants and retailers to ask their distributors where their romaine lettuce was grown to stop the spread of E. coli. Yes, this outbreak is that serious. The outbreak has left six people hospitalized, according to Time, affecting those ranging in age from as young as 12 to as old as 84. Even though the CDC has not reported any deaths associated with the E. coli outbreak, it's something that people should want to be on high alert about — an E. coli infection can have some serious impacts, according to CNN.
So what should you do if you have romaine lettuce in your home? Throw it away, according to the Food and Drug Administration, and avoid eating caesar salads (or any salad that uses romaine) from your favorite restaurant for the time being. Because consumers might not know where their lettuce was grown, it is best to be cautious when it comes to these things. And this isn't something people want to risk, either, according to the FDA. Even if consumers don't know what type of lettuce they bought but think it might be romaine, the CDC is recommending that people throw their lettuce away, anyway.
Although these measures might seem a little drastic, as previously stated, E. coli isn't something that you want to mess with, especially people who are younger, older, and therefore have weakened immune systems, according to the FDA. The symptoms of an E. coli infection vary from person to person, according to the CDC, but are all generally associated with stomach cramps, diarrhea, and vomiting. Some people might get fevers from an E. coli infection, according to the CDC, while others do not. It's important to note that not everyone experiences the same symptoms. So while an E. coli infection typically lasts anywhere from 5 to 7 days, according to the CDC, it can also be fatal for others — thus why people should be on high alert.
This is the second time this year that an E. coli outbreak has been linked to romaine lettuce. In January, the CDC reported that an outbreak linked to romaine lettuce had spread across 15 states, according to TODAY, after it left 25 people in the United States sick and one dead. But according to a tweet from the FDA, these outbreaks are not linked and the growing season in Arizona should be over shortly, therefore people will be back to eating their salads in no time.
Now, this isn't an excuse to stop eating healthy or a reason to tell yourself that you should really stay away from salads. Instead, let this outbreak serve as another measure of keeping your family safe from harm. Your salad eating can wait a little while until the outbreak is over.