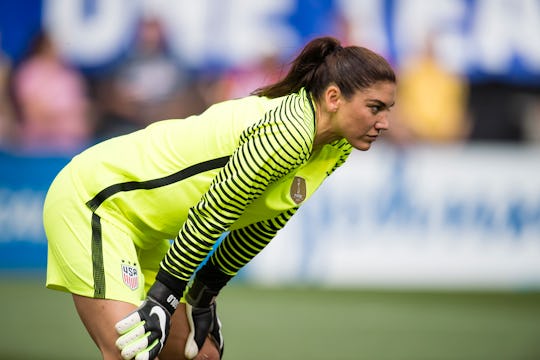 Jason Miller/Getty Images Sport/Getty Images
Everything You Need To Know About The Hope Solo Case
Two-time Olympic gold medalist Hope Solo gets a third opportunity to earn first place as the US Women's Soccer team's goalie. Her road to this year's Olympics, however, hasn't been a smooth one. Since the 2012 Olympics, Solo's faced domestic violence allegations that haven't gone to trial. Here's everything you need to know about the Hope Solo case in full, from the 2014 incident-in-question to present-day.
In June 2014, Solo was charged with misdemeanor domestic violence assault. According to the police reports, Solo, who "appeared to have been drinking," reportedly got into an argument with her nephew which escalated, causing her to "charge" at him. Solo reportedly "punched him in the face and tackled him," until her half-sister attempted to stop the fight, at which point Solo is said to have allegedly "punched her in the face 'several times.'" The nephew then reportedly broke a wooden broom over Solo's head and "pointed a BB gun at her."
Solo then left for a moment, but returned and allegedly "assaulted her sister some more," according to the affidavit. Solo told police that she did not instigate any physical fighting, but rather that her nephew hit her with a broom after she had called him "fat and unathletic." The Washington Post reports that, upon her arrest, Solo allegedly fought police, and reportedly taunted (while allegedly intoxicated): "You're such a b----. You're scared of me because you know that if the handcuffs were off, I'd kick your [expletive]."
These initial assault charges were dismissed in January 2015 when a Kirkland "judge determined...the victims left Solo unable to defend herself" in court because Solo's half-sister and nephew did not appear for an interview needed for the trial, according to The Seattle Post‑Intelligencer. This decision was appealed in February and the charges against Solo were reinstated in October. Solo attempted to challenge the charges by "alleging government misconduct in how the case was handled," according to The Los Angeles Times. Her request was denied, and she currently awaits another trial.
Though Solo suffered no suspension from the U.S. Women's Soccer Team for the domestic violence allegations, she did endure a 30-day suspension due to her husband's 2015 DUI. Solo, who was in the passenger seat at the time, was "reportedly also drunk and belligerent." Her husband, former NFL player Jerramy Stevens, was driving a U.S. soccer team van. In a February 2015 interview with ABC, Solo explained: "... Clearly I wasn't thinking, it was a horrible choice....It was stupid, we should have called a taxi."
Solo's case raised a lot of questions, specifically because her alleged assault charges resulted in no ban from the U.S. Soccer Federation. Currently, Solo's in Rio with the U.S. Olympic Women's Soccer Team, playing for the team's fourth straight gold medal. Whether her troubles will plague her again upon her return is yet to be seen.