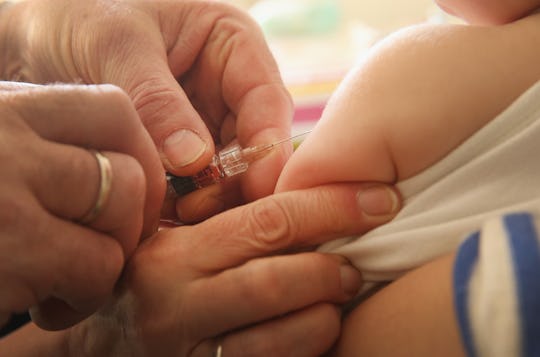 Sean Gallup/Getty Images News/Getty Images
What You Need To Know About The Measles Outbreak That's Spread To 21 States
The Centers for Disease Control and Prevention released a concerning report on Wednesday detailing the largest measles outbreak since 2015. As of this week, according to USA Today, 107 cases of measles have been identified across 21 states, and it's possible the illness could spread to additional areas in the coming months. Although these numbers have yet to surpass the 2015 statistics, this recent outbreak is understandably worrying to parents. And on that note, here's everything families need to know about the recent measles outbreak.
Worry spiked in 2014 when the CDC reported 667 cases of measles across 27 states. But just when you thought things couldn't get any more concerning, 110 California residents contracted measles between Dec. 28, 2014 and Feb. 8, 2015, an outbreak that was eventually traced back to Disneyland, as the CDC stated. The investigation into the Disneyland outbreak found 49 out 110 patients weren't vaccinated at the time, a statistic that says a lot about why vaccinations are so important. And by the end of 2015, 188 cases of measles were reported in 24 states.
Although the number of reported cases is a lot lower now than it was in 2014 (107 versus 667) and 2015 (107 versus 188), it's possible the illness could spread beyond these 21 states, according to CNN:
Arkansas
California
Connecticut
Florida
Illinois
Indiana
Kansas
Louisiana
Maryland
Michigan
Missouri
Nevada
New Jersey
New York
North Carolina
Oklahoma
Oregon
Pennsylvania
Tennessee
Texas
Washington
If outbreak spreads further than the aforementioned 21 states, it could become worse than the one in 2015. But before you freak out, here's what's important to consider about this recent outbreak — it has yet to be linked back to one specific place or patient zero. "The 107 cases reported to CDC have been since January 2018 across 21 states, but they are not one unified outbreak ... ," a CDC press officer confirmed to ABC News.
As Popular Science noted in an article titled, "Measles cases aren't spiking, despite talk of an outbreak," an outbreak is less likely to spread if there's no concentrated source of origin. Assistant Editor of Popular Science, Sara Chodosh, explained in the piece:
If 107 people across 21 states were all sick from a single outbreak, that might be far more concerning because it would suggest there could be much more spread. Some outbreaks happen in pockets of unvaccinated people who would all be at risk, for instance, while others spread via travel. The famous Disney World outbreak in 2015 was so troublesome for that reason. If people get infected in one place, then travel and spread measles to many other states, you're broadening the pool of people who could potentially get infected.
Furthermore, the CDC said in an official tweet about the recent data:
There is NO current multi-state #measles outbreak in US. Some recent media reports misinterpreted CDC data. Number of US-reported cases in 2018 is similar to recent years & in expected range. Measles is still common in many parts of the world. Protect your family w/ #MMR vaccine.
The CDC is right to advise parents to arm their families against measles — one of the most contagious diseases out there — with the MMR vaccine. "Getting vaccinated is the best way to prevent measles. And when enough people get vaccinated against measles, the entire community is less likely to get it," The U.S. Department of Health and Human Services' (HHS) website states. "So when you and your family get vaccinated, you help keep yourselves and your community healthy."
To ensure the safety of your child and other parents' kids, make sure your child gets their first dose of MMR between 12 through 15 months of age, and the second dose between four through six years of age, according to the HHS' website. If you have any questions about the vaccine, don't hesitate to reach out to your doctor.
Although talk of measles outbreaks is scary, keep in mind it's pretty easy to prevent them through vaccinations. Hopefully, through education and outreach, more parents will realize the importance of vaccinating their kids, and measles outbreaks will soon become a thing of the past.