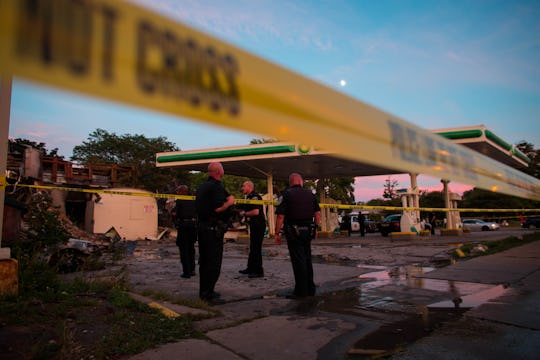 Darren Hauck/Getty Images News/Getty Images
Everything You Need To Know About The Milwaukee Police Shooting
It was a tense and violent weekend in Milwaukee, Wisconsin, after the police shooting death of 23-year-old Sylville Smith Saturday night sparked outrage throughout the city. News of Smith's death led to protests in the north end of the city, but unlike similar protests following high-profile police shooting deaths in other cities this year — in Minnesota, after the death of Philando Castile, or in Louisiana, after the death of Alton Sterling, for example — the Milwaukee protests quickly escalated to rioting and looting, resulting in the declaration of a state of emergency by Wisconsin Gov. Scott Walker. Here's everything you need to know about the Milwaukee police shooting, because the unrest in Milwaukee seems to have roots that go much deeper than just Smith's death.
According to CNN, two police officers pulled over a car on Saturday afternoon containing Smith and another unidentified passenger. Police reported that the two men fled the car, and that after Smith refused to drop his weapon, the officers shot him in the arm and chest, and he died at the scene. Review of body camera footage after the incident reportedly showed that Smith was not only armed, but holding a gun in his hand. Police said the gun itself had been stolen during a nearby burglary in March along with 500 rounds of ammunition, and that Smith's gun had been loaded with 23 rounds of ammunition.
Angry protestors took to the street later that evening, according to The New York Times, and the situation escalated, resulting in a number of business and cars being destroyed after rioters set them on fire. Sunday began much calmer, and included community clean up efforts following Saturday's riot as well as a candlelight vigil for Smith, according to CNN, but violent protests resumed in parts of the city Sunday evening, resulting in shots being fired, and protesters throwing rocks, bottles, and bricks at police in a stand-off.
A man claiming to be Smith's brother spoke out against Smith's death to reporters Sunday, according to The Guardian, criticizing the police:
You've got a city riot going on, because, once again, the police [have] failed to protect us, like they [said] they were going to do. They failed to be here for the people like they swore in they were going to do. And us as a community ... if we don't have anyone to protect us, then this is what you get. You get riots. You've got people out here going crazy. We're losing loved ones everyday to the people sworn in to protect us.
The unidentified man also spoke out in a separate, emotional video about Wisconsin gun laws, holding up his concealed carry permit to argue a double standard exists between white and black gun owners in the state:
Where's the justice? Y'all gave us the right to carry these. This means I don't have any felonies. This means I went the right way. This means I did what you all did, to do the same thing that you all do everyday ... You all give us the right to [carry weapons]. You're all setting us up, man. Y'all gave us the right to carry a gun like y'all, [but] y'all don't treat us the same ... Where's our constitutional rights?
According to the Milwaukee-Wisconsin Journal Sentinel, records from the Milwaukee County Sheriff's Office show that Smith had a lengthy arrest history, including, "a shooting, a robbery, carrying a concealed weapon, theft, possession of heroin." But Smith's mother, Mildred Haynes, told the newspaper that he did not have any felonies, and that only one of his arrests — carrying a concealed weapon — resulted in a conviction. Haynes said Smith had recently obtained a concealed carry permit after being shot and robbed, and that he carried a gun for his own protection. The issue though, of course, is whether Smith was holding the gun when stopped by police — something still under investigation, but which officials say was confirmed by the officer's body camera.
But as much as the riots in Milwaukee center are around Smith's death, many are also noting Monday that they are also about much more than that: namely, the culmination of years of racial tension and inequality in the state, which is consistently rated one of the worst places in the country for black people. According to NPR, a 2015 study from UCLA found that black students in Wisconsin are suspended from school at a higher rate than any other state, with Milwaukee suspending black students "at a rate nearly double the national average." Wisconsin has the largest achievement gap between black and white students in the country, not helped in any way by the fact that 80 percent of black children is Wisconsin live in poverty. The state also earned the title of the highest rate of incarceration for black men in the country as of 2015, and Milwaukee itself is considered "the most segregated [city] in America," thanks to a blatant physical geographic divide, where black people in Wisconsin live almost exclusively in the north end of the city.
Reactions to the situation in Milwaukee are sharply divided on social media, with many people condemning Smith as a thug (and attempting to justify his death in other disgusting ways), and the riots as senseless violence, while others argue that he was another victim of police brutality, and that the riots are the natural reaction to such long-term oppression. Even the two main hashtags used to describe the incidents in Milwaukee show polarized viewpoints: one person's #milwaukeeunrest is another person's #milwaukeeuprising.
In a news conference Saturday, Milwaukee Mayor Tom Barrett announced that the National Guard has been activated, and is ready to be brought in if necessary, according to the Wall Street Journal.