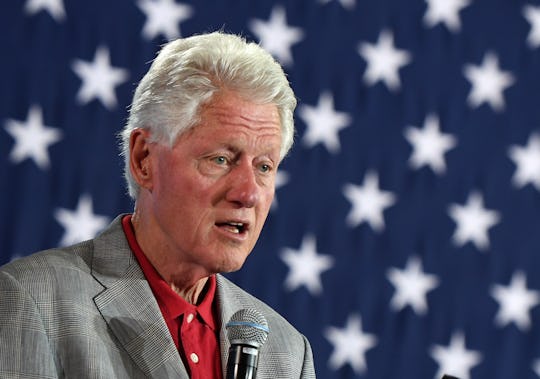 Ethan Miller/Getty Images News/Getty Images
Everything You Need To Know About The Sexual Assault Allegations Against Bill Clinton
In response to sexual assault allegations against GOP nominee Donald Trump, many supporters have cried, "But Bill!" as a way to discredit Democratic rival Hillary Clinton. It's no secret that the former president has a less-than-praiseworthy history with women, and some like to use the sexual assault allegations against Bill Clinton as a way to prove that Hillary is unfit for office, according to Slate. But what exactly are the allegations against Bill, what does Hillary have to do with them, and do the allegations matter for her campaign? Hillary Clinton's campaign has not yet responded to Romper's request for comment.
Bill has been accused by two women, Paula Jones and Kathleen Willey, of sexual harassment or assault and by one, Juanita Broaddrick, of rape. Jones has alleged that, in 1991, the then-governor of Arkansas exposed himself to her after making unwanted advances, according to Vox. At the time, Jones was working for the state's Industrial Development Commission and said the incident occurred during a conference they both attended. According to her account, Bill made a number of sexual comments to her before exposing himself to her. Jones sued, but the court sided with Bill. Jones appealed the decision, resulting in a settlement in which she was paid $850,000. Bill admitted no wrongdoing. Hillary has not been mentioned by anyone as being involved in the incident.
Kathleen Willey was a White House volunteer when she said Bill assaulted her in 1993. Willey wanted to meet with the then-president to ask for a permanent paid position since she was having financial troubles, according to CNN. She said that, near the end of the meeting, Bill kissed her and fondled her, which Bill denied. The case ended in a mistrial when Willey's friend admitted that Willey told her to lie to back up the allegations. Since then, Willey has latched onto a conspiracy theory that the Clintons are to blame for the death of her husband, who died by suicide on the day of Willey's meeting with Bill. Willey has brought Hillary into the discussion of the incident by alleging that she participated in the murder of Willey's husband. This is a conspiracy theory that has no evidence, and it is the only known link between Hillary and Willey's alleged assault.
Juanita Broaddrick is the only case in which Hillary is even slightly mentioned as having a hand in. Broaddrick, at the time a volunteer for Bill's gubernatorial campaign, said Bill raped her in 1978 in her hotel room in Little Rock, Arkansas, according to Vox. Once she went public with the accusations in 1999, Broaddrick said that Hillary had tried to silence her after the alleged rape.
"She caught me and took my hand and said 'I am so happy to meet you. I want you to know that we appreciate everything you do for Bill.' I started to turn away and she held onto my hand and reiterated her phrase -- looking less friendly and repeated her statement — 'Everything you do for Bill'... She talked low, the smile faded on the second thank you."
This is the encounter that many Trump supporters have pointed to as evidence that Hillary should be held responsible for the alleged assaults. But Hillary's words were extremely vague, and Broaddrick's interpretation was understandably skewed. Hillary's ties to the incident are shaky at best.
So why do people insist on holding Hillary accountable for the actions of her husband? Because it's not unusual to blame wives for the misdeeds of their husbands. When men cheat, women are often told they weren't keeping their men happy enough. Similarly, when men rape, women are often told they are enablers.
Slate's Michelle Goldberg explained Hillary's predicament well:
Hillary was a betrayed woman who nevertheless fought to salvage a marriage and political project she believed in... Either way, if Hillary ends up paying a greater price for Bill Clinton's sex scandals than he did himself, it will show that the sexist constraints she's operated under for her entire political life have scarcely loosened.
That's why Bill's affairs should not be relevant in Hillary's campaign. Bill is not running for office, and Hillary should not be implicated when accusations against her husband arise. Not only has Hillary not been involved in any of the alleged sexual assault or rape cases, but it's also unfair and sexist to hold her accountable for anything her husband may have done.