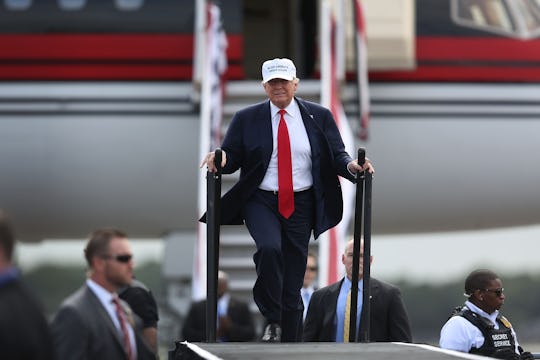 Joe Raedle/Getty Images News/Getty Images
Everything You Need To Know About The Sexual Assault Allegations Against Donald Trump
In the wake of the tape of Billy Bush and Donald Trump disparaging women in a clip from behind the scenes of Access Hollywood, where he bragged about sexual assault, several women have come forward claiming that they were in fact sexually assaulted by Trump. Romper has reached out to the Trump campaign for further comment on the allegations, and is awaiting a response. In the meantime, here's everything you need to know about the sexual assault allegations against Donald Trump. Of all the allegations, Trump said at a West Palm Beach campaign stop on Thursday, according to a CSPAN live feed:
These vicious claims about me, of inappropriate conduct with women, are totally and absolutely false. And the Clintons know it. And they know it very well. These claims are all fabricated. They're pure fiction and they're outright lies. These events never, ever happened, and the people that said them meekly fully understand — you take a look at these people, you study these people, and you'll fully understand also. The claims are preposterous, ludicrous, and defy common sense and logic. We already have substantial evidence to dispute these lies and it will be made public in an appropriate way and at an appropriate time very soon.
These lies come from outlets whose past stories and past claims have already been discredited. The media outlets did not attempt to confirm the most basic facts, because even a simple investigation would've shown that these were nothing more than false smears.
While it might seem like there has been quite a startling, recent influx of stories linking Trump to allegations of sexual misconduct, some of the allegations actually predate his presidential campaign: his ex-wife, Ivana claimed that Trump raped her — a story which came out during the deposition hearings for their divorce in the 1990s. At the time, Ivana's story was dismissed not just by Trump, but even more vocally by Michael Cohen, special counsel at The Trump Organization. "You cannot rape your spouse," he said of the allegations, "There's very clear case law." And insisted that Ivana meant that she had felt "emotionally raped" — despite the very clear physical altercation that was outlined in the deposition.
Ivana later amended her story in a statement, which was included in the preface to the book Lost Tycoon, whose author had included the anecdote from the deposition hearing in his book:
During a deposition given by me in connection with my matrimonial case, I stated that my husband had raped me. On one occasion during 1989, Mr. Trump and I had marital relations in which he behaved very differently toward me than he had during our marriage. As a woman, I felt violated, as the love and tenderness, which he normally exhibited towards me, was absent. I referred to this as a 'rape,' but I do not want my words to be interpreted in a literal or criminal sense.
Ivana and Trump were divorced in 1990, with "cruel and inhuman treatment" cited by Ivana as the grounds for the divorce.
Jill Harth
Harth, who accused Trump of sexual assault in a 1997 lawsuit recently told The Guardian in an interview that although her suit was settled, Trump still denies the allegations occurred and that throughout the election she has been contacted by his campaign and pressured to change her story.
Her story being that, from the time she met him in 1992 he frequently peppered her with unwanted sexual advances, lewd and suggestive comments, all of which ultimately culminated with him attempting to rape her in his daughter's bedroom at his estate, according to The Guardian:
He pushed me up against the wall, and had his hands all over me and tried to get up my dress again, and I had to physically say: 'What are you doing? Stop it.'
Prior to the more recent allegations by other women, Harth supported Trump and even had offered to work on his campaign. But when the campaign called her integrity into question and began pressuring her to recant her story, she had a significant change of heart.
13-Year-Old Jane Doe
An unidentified woman filed a suit against Trump in June alleging that he raped her in 1994, when she was 13 years old. The woman claims that in the early 1990s she was living in New York City hoping to become a model, and was often about town at parties with some of the city's most elite. Trump being included in that demographic, they were often running in the same circles. She alleges that he consistently made sexual advances, which ultimately lead to a violent rape.
She went on to say that he threatened to kill her and her entire family if she ever spoke about the incident. The case is set for a hearing in December.
The New York Times
Two women, Jessica Leeds and Rachel Brooks, told their stories to The New York Times, which ran the interviews with them on Wednesday. Leeds, now in her 70s, was inspired to come forward after hearing Trump adamantly deny having sexually assaulted women during the second presidential debate. She told the Times that she once sat next to Trump on a flight during which he began to touch her inappropriately. "He was like an octopus," she told the Times, "His hands were everywhere." She got up and changed seats, going to the back of the plane.
Another woman was similarly outraged by Trump's comments on the "Trump tape"; Rachel Brooks told the Times that when she was a receptionist in Trump Tower back in 2005, she ended up in an elevator with Trump. Aware that the business she was working for often conducted business with him, she introduced herself.
He shook her hand and then, she says, he began kissing her: "It was so inappropriate," Crooks told the Times, "I was so upset that he thought I was so insignificant that he could do that."
When the Times called Trump for a comment, he angrily informed them that "None of this ever took place," — and told the reporter who questioned him "a disgusting human being."
Mar-a-Lago Incidents
Two women have described incidents occurring at Trump's Mar-a-Lago estate: one was Mindy McGillivray, who said Trump grabbed her butt while she was on site working as a photographer's assistant.
The other came from Natasha Stoynoff, a reporter at PEOPLE, who wrote on Wednesday that she was sexually assaulted by Trump at the estate when she was there to do a feature on Trump and his then new wife, Melania, back in 2005.
Beauty Pageant Contestants
Several former Miss USA contestants have commented on Trump's inappropriate behavior at pageants, of which he was a frequent visitor. Cassandra Searles, Miss Washington 2013 told Yahoo News that when he visited the pageant Trump "continually grabbed my ass and invited me to his hotel room".
A former Miss Utah, Temple Taggart McDowell, has told the media as of late about several encounters she had with Trump over the years that involved unwanted sexual advances — usually on-the-lips kissing that she felt was odd, and strongly inappropriate. At the time she was competing, she was 21 years old.
Tasha Dixon, the 2001 Miss Arizona winner told CBS in Los Angeles that Trump often walked in on Miss USA contestants while they were changing. She said, "I'm telling you Donald Trump owned the pageant for the reasons to utilize his power to get around beautiful women. Who do you complain to? He owns the pageant. There's no one to complain to. Everyone there works for him."
Four contestants in the Miss Teen USA pageant came forward to say that Trump would routinely come into their dressing room — where they were partially if not completely undressed — telling them "Don't worry ladies, I've seen it all before."
Entertainment Tonight Clip
Perhaps one of the most unsettling incidences yet came in the form of a leaked clip from Entertainment Tonight, taped in 1992, in which you can see and hear a then 46-year-old Trump remarking of a 10-year-old girl he'd just spoken to, "I'll be dating her in 10 years. Can you believe it?"
Trump continues to deny that any of the allegations are true, and has in fact threatened to sue The New York Times if they don't retract their story — which he maintains is purely libel.