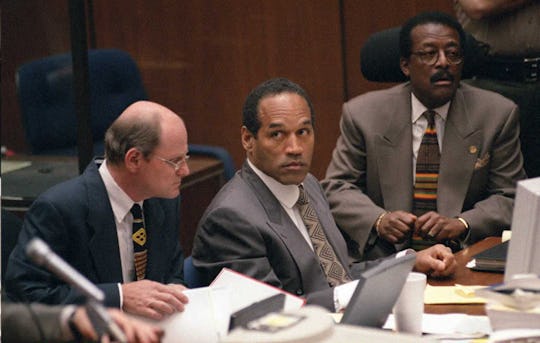 Pool/Getty Images
Evidence From O.J. Simpson's Trial That Made Him Look Innocent, As Argued By The Defense
O.J. Simpson's murder trial is back in the news. The People v. O.J. Simpson: American Crime Story is set to premiere Tuesday at 10 p.m. ET on FX, reawakening public interest in what was once called the "Trial of the Century." The evidence for O.J. Simpson's innocence in the Nicole Brown Simpson murder is still controversial, even though the former NFL player's defense team ultimately won the case, and now, viewers are getting a second look.
In June 1994, Simpson's ex-wife, Nicole Brown Simpson, and friend Ronald L. Goldman were found dead of multiple stab wounds, according to police reports at the time. Though Judge Kathleen Kennedy-Powell initially said that prosecutors did not have "proof beyond a reasonable doubt" that Simpson himself was guilty of the murders, a hearing led her to conclude that he could still reasonably be considered a suspect. After the charges were made public, Simpson wrote a suicide letter and led police on a slow speed chase before surrendering. He pleaded not guilty, surrounding himself with some of the most powerful attorneys in the country (including Johnnie Cochran and Rob Kardashian). The criminal trial began in January 1995 and didn't end until the jury found Simpson not guilty in October of the same year.
Though the verdict was delivered 10 years ago, plenty of people who followed the original case still debate to this day who may have actually committed the murders. Here are three critical pieces of evidence the defense team used to establish Simpson's innocence, that Simpson's supporters often point to in their arguments.