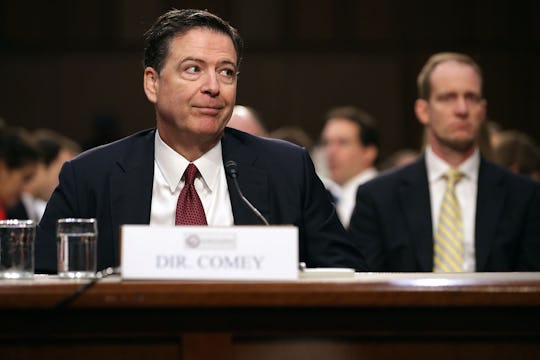 Chip Somodevilla/Getty Images News/Getty Images
No, James Comey Didn't Close The Clinton Investigation Early
A letter sent to FBI Director Christopher Wray on Wednesday is attracting a lot of attention, as some claim it contains evidence James Comey exonerated Hillary Clinton too early, according to CNN. The letter, sent by Iowa Sen. Chuck Grassley and South Carolina Sen. Lindsey Graham, asserts that in the course of the Senate Judiciary Committee's investigation into Comey's firing, the committee discovered transcripts of interviews the Office of Special Counsel conducted with Comey's staff. Those interviews were conducted as part of an investigation into Comey's handling of former Secretary of State Hillary Clinton's email case, and is now closed.
In the interviews, two individuals whose names have been redacted stated that Comey had written and shared a draft of his announcement that the Clinton investigation would be closed in April or May 2016, according to a Senate Judiciary document. The announcement was not made until July, meaning the alleged draft would have been written before the FBI had interviewed Clinton and 16 other witnesses. Grassley and Graham condemned this as "Conclusion first, fact-gathering second," and requested copies of all the drafts of Comey's statement, all FBI communications relating to the statement, and all the records previously provided to the Office of Special Counsel relating to the closed investigation in their letter to Wray.
First of all, Comey did not, and could not, exonerate Clinton. What he eventually did in July 2016 was deliver an announcement explaining the details of the FBI's investigation, as well as its conclusion that there was no justification for bringing criminal charges against Clinton, according to an FBI release at the time. This was a case that was under intense public scrutiny — you might recall that Clinton was running for president at the time — so Comey made the unusual announcement in the interest of transparency.
But even if Comey did write the first draft of his announcement in April or May, that doesn't mean that he'd already decided to end the investigation. It could only go one of two ways: the FBI would find evidence of wrongdoing and recommend charges, or not find any. Sources familiar with the case told CNN that by May, the FBI had already reviewed most of the evidence in the case. At that point, unless something groundbreaking came up in the interviews, there was no reason to suspect the investigation wouldn't soon be over. When the winning Super Bowl team receives commemorative T-shirts immediately following the game, nobody accuses the NFL of "deciding" the winner ahead of time. "Smart people think ahead and prepare," tweeted Benjamin Wittes, a Comey ally and Senior Fellow at the Brookings Institution. "That appears to be an alien notion to our current president, but that's likely what happened here."