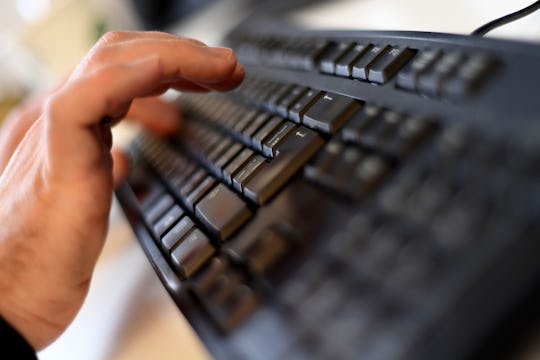 KIRILL KUDRYAVTSEV/AFP/Getty Images
Evidence Russia Hacked The Election Isn't Enough To Change Trump's Mind
Last week officials from the Central Intelligence Agency briefed a group of Senators and said that, in their view, the Russians were behind the hacking of the Democratic National Committee and former Secretary of State Hillary Clinton's campaign chairman, John Podesta, with the intent to help get Donald Trump get elected to the White House. President-elect Trump's camp is denying Russia interfered or helped him get elected in any way. But there's plenty of evidence Russia hacked the election, putting team Trump on the side of Russia, and against the consensus of the U.S. intelligence community.
"It is the assessment of the intelligence community that Russia's goal here was to favor one candidate over the other, to help Trump get elected," a senior official briefed on intelligence presented to U.S. senators told the Washington Post. "That's the consensus view."
But Trump, and those loyal to him, have consistently pushed back against any suggestion from the intelligence community that Russia helped him get elected, even questioning the motivation and reliability of the CIA itself in a response from the Trump transition team from last week.
"These are the same people that said Saddam Hussein had weapons of mass destruction," the statement read, according to CNN. "The election ended a long time ago in one of the biggest Electoral College victories in history. It's now time to move on and 'Make America Great Again.'"
President Obama has ordered a full review of the election and wants a report on his desk before he leaves office in January, according to the Washington Post. But the intention of the review isn't to undo the election result, but rather "...to understand what has happened and to impart some lessons learned," Obama's counter-terrorism and homeland security adviser, Lisa Monaco, told reporters, the Post reported.
Here's what we know so far.
What Information Was Revealed In The Hacks?
Back in July, when WikiLeaks started releasing the hacked emails from the Democratic National Committee, the U.S. government didn't name the source, Politifact reported. It wasn't until WikiLeaks started releasing hacked emails from Clinton campaign chairman John Podesta on Oct. 7 that officials were willing to identify the source, according to Politifact.
The hacks, according to a joint statement from Director of National Intelligence and Homeland Security, "are consistent with the methods and motivations of Russian-directed efforts," Politifact reported. The statement added, "We believe, based on the scope and sensitivity of these efforts, that only Russia's senior-most officials could have authorized these activities."
In addition to releasing hack emails, DNC officials told Mother Jones there was evidence the organization's headquarters had been bugged, and referred the matter to the FBI.
The Hacks Damaged Clinton Severely In The Final Weeks Of The Election
Regardless of your political point of view, it's clear the hacks were intended to damage Clinton's candidacy, and they did. The hacked emails, published on Wikileaks, revealed what some saw as institutional bias against the candidacy of Clinton's primary rival, Vermont Sen. Bernie Sanders, ultimately forcing DNC Chairwoman Debbie Wasserman Schultz to step down, according to the Washington Post. Her replacement, interim-chairwoman Donna Brazile was also damaged by hacks after it was revealed she gave advance notice to the Clinton camp of a question slated for a CNN Town Hall, according to Politico. Brazile denied any wrongdoing, Politico reported. Brazile has not responded to Romper's request for comment.
Hacked emails also embarrassed former Secretary of State Colin Powell, who reportedly slammed both the Clintons and Trump in a series of scorching emails, CBS News reported.
Then, there was Clinton herself, whose dirty laundry was on full display, from leaked internal memos at the highest levels of her campaign, to transcripts of paid speeches she reportedly gave, according to the BBC. Neither Clinton nor anyone near her campaign ever confirmed or denied the authenticity of the emails.
Team Trump's Denial Hasn't Stopped
Since October, the intelligence community has been convinced Russia was behind the cyber attacks against American political institutions. The Director of National Intelligence statement dated Oct. 7 read:
The U.S. Intelligence Community (USIC) is confident that the Russian Government directed the recent compromises of e-mails from US persons and institutions, including from US political organizations. The recent disclosures of alleged hacked e-mails on sites like DCLeaks.com and WikiLeaks and by the Guccifer 2.0 online persona are consistent with the methods and motivations of Russian-directed efforts. These thefts and disclosures are intended to interfere with the US election process. Such activity is not new to Moscow—the Russians have used similar tactics and techniques across Europe and Eurasia, for example, to influence public opinion there. We believe, based on the scope and sensitivity of these efforts, that only Russia's senior-most officials could have authorized these activities
And yet, just this past Sunday on Meet The Press, incoming Trump Chief of Staff Reince Priebus denied any evidence Russia was behind an effort to influence the election.
"No. 1, you don't know it. I don't know it," Priebus said, according to Politifact. "There's been no conclusive or specific report to say otherwise."
Yes, there is.
Trump campaign manager Kellyanne Conway called the accusations against Russia trying to meddle in American elections, "laughable and ridiculous," according to the Washington Post.
Congress Supports The CIA Investigation — On Both Sides Of The Aisle
Powerful senators from both sides of the aisle are prepared to move forward with investigations, putting them at odds with an incoming Trump White House. Arizona Sen. John McCain and South Carolina Sen. Lindsey Graham, both prominent Republican lawmakers, issued a joint statement with Democrat Sens. Chuck Schumer from New York and Jack Reed of Rhode Island that said, according to Politico, it's time to put partisan politics aside and investigate Russia's influence in our elections, and that this is an issue that "should alarm every American."
McCain also added he's concerned about Trump's attitude toward Russian President Vladimir Putin, according to CBS News, and the fact that Trump is considering appointing long-time Putin ally Exxon Mobil CEO Rex Tillerson to head the Department of State. McCain said, according to CBS News:
Vladimir Putin is a thug and a murderer and a killer and a KGB agent. ...Let's call Vladimir Putin for what he is. Does that mean you don't deal with him or talk to him? Of course you talk to him. But you do it the way that Ronald Reagan did, and that's from a position of strength.
Putin has denied Russia's involvement in the hacks and allegations that Russia tried to interfere with the U.S. election, according to Forbes.
For now, it appears as if Congressional investigations will go on along in tandem with Obama's ordered inquiry. The questions that remains are how hard will Trump fight to block any investigations once he takes office in January, and what will Americans do once they learn the truth?