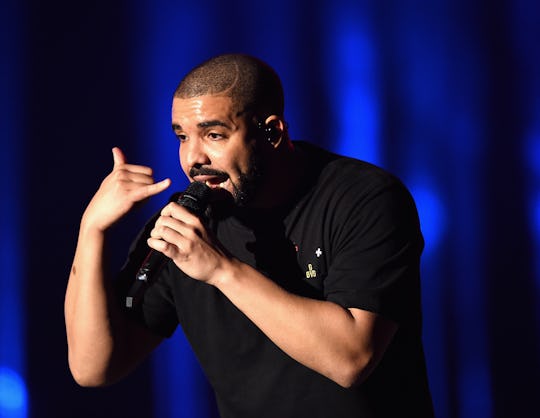 Kevin Winter/Getty Images Entertainment/Getty Images
All The Evidence That Drake & J. Lo Are Dating
First come dating rumors, then come celebrity couple names. It's the typical set up for new celebrity romances. But in this week's case with Drake and Jennifer Lopez, the stages of how supposed celebrity romances are played out in the public all seem to be expedited and intertwined. That's right, the dating rumors are flowing, Drake and Lopez are the talk of the town, and "Dralo" has already begun making its rounds on the internet. Fans of both of the artists are likely wondering, how did all these rumors come about in the first place? Well, of course the validity of celebrity romances are usually questionable, but the evidence that Drake and J. Lo are dating explains what all the fuss is about. I mean, hashtag #Dralo is pretty catchy already.
If this were a courtroom, then the strongest piece of evidence that would be used would be a picture that both Lopez and Drake shared on their Instagram accounts. The two reportedly (or as Dralo hopefuls would have you think) incriminated themselves by both sharing a picture of themselves looking very cozy in each other's arms. Not to mention the lighting, and the setting in the background looked all too romantic to not make you take a second look.
"The" Picture On Instagram
Rihanna Reportedly Unfollowed Lopez On Instagram
As social media culture would have it, unfollowing someone on Instagram is apparently kind of a big deal. And according to E! News, Rihanna reportedly unfollowed Lopez amid the dating rumors, which in turn further fueled speculation that a romance is bubbling up — you know, considering Rihanna and Drake have had an on-again-off-again romance.
Drake Attended J. Lo's Las Vegas Concert
Nothing fuels romance rumors like the act of showing support. As E! News reported, Drake attended two of Lopez's shows at her residency in Las Vegas. And he didn't show his support for Lopez quietly either — he posted photos capturing the moment, writing in one, "Sure I'll hold your diamond encrusted fitted while you catch this Vegas body #Jenny"
J. Lo Attended Drake's Intimate Dinner In West Hollywood
Apparently Drake hosted an intimate dinner in West Hollywood last week and Lopez was one of the guests in attendance at the very exclusive dinner, Entertainment Tonight reported. Hmmm...
Well, for all you new Dralo fans out there, it's probably best to not get too excited until you get absolute confirmation. I mean, what's worse than getting your hopes up for nothing, right? In the meantime, this old video clip resurfaced by E! News, in which Drake appears to look at Jennifer Lopez with admiration at the 55th Annual Grammy Awards should hold you over:
#Dralo.