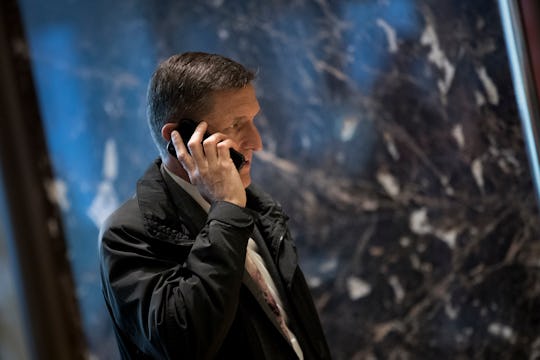 Drew Angerer/Getty Images News/Getty Images
Evidence That Trump Knew About The Flynn Call
You know things are getting bad when even right-leaning publications and TV channels are starting to turn on President Donald Trump. While most of them haven't completely gone HAM just yet, Fox News' chief White House correspondent, John Roberts, told Bill O'Reilly on Thursday night that Trump knew about the Flynn call, and had been "fully briefed on the content" of the conversation that former National Security Advisor Michael Flynn had with the Russian ambassador, Sergey Kislyak. Roberts also said that Flynn, who had previously claimed not to remember if he discussed sanctions with Kislyak, actually had "a full recollection of what he talked about." The White House hasn't responded to Romper's requests for comment regarding what Trump had knowledge of and the campaign team's contact with Russia during the presidential campaign.
The Washington Post first reported last week that Flynn had, indeed, discussed sanctions with Kislyak before Trump was inaugurated. When questioned by the press, Trump, in a carefully phrased response, said, "I haven't seen it. What report is that?" Flynn resigned his position on Monday after a little over three weeks on the job. On Tuesday, Press Secretary Sean Spicer revealed that acting Attorney General Sally Yates had told White House Counsel Don McGahn about Flynn and Kislyak's call weeks ago, and that McGahn had immediately briefed Trump about the conversation. While it's unproven that Trump knew about the Post's report, he now admits to being aware of the call it referred to.
The question that remains now isn't whether Trump knew about the call, but rather when he knew. Trump said in a press conference on Thursday that he didn't take issue with the call itself, and the reason he asked for Flynn's resignation was because he was dishonest with Vice President Pence about the nature of the call. "I didn't direct him," Trump claimed, "but I would have directed him because that's his job." House Oversight Committee Chairman and Utah Rep. Jason Chaffetz has said that Congress won't investigate Flynn, despite allegations that he lied to the FBI about the call, which is a felony. Flynn claims that he simply forgot parts of the conversation. Representatives for Flynn haven't responded to Romper's request for comment.
In a joint statement on Tuesday, California Rep. Adam Schiff, ranking member of the House Intelligence Committee, said that the idea that Flynn acted of his own accord is "implausible and unlikely," and Maryland Rep. Elijah Cummings, ranking member of the House Oversight Committee, raised his concern that "Flynn was secretly communicating with Russian officials at the same time that Russia was attacking our democracy." Schiff also called for an investigation into "whether any of the president's team collaborated or colluded at all with Russia during the campaign."