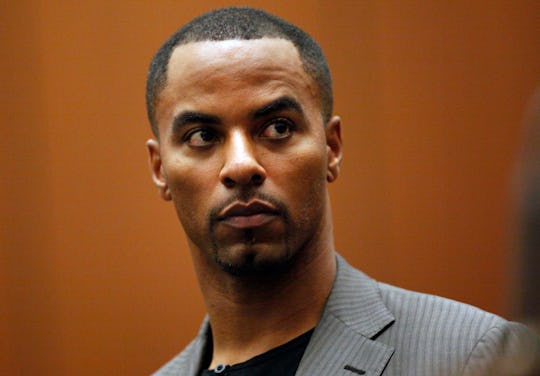 AFP/AFP/Getty Images
Ex-NFL Player Sentenced To 18 Years For Multiple Rape Convictions, But It's Just A Start
Justice has finally been served for more than a dozen women across the country. On Thursday, ex-NFL player Darren Sharper was sentenced to 18 years in prison for drugging and raping up to 16 women in four states. The 40-year-old former safety was also fined $20,000. Sharper's conviction serves a dire warning to other NFL players and elite athletes that these types of reprehensible actions certainly aren't acceptable, won't be invisible, or go without punishment, even if you wear a coveted jersey or juggle lucrative endorsements. The retired NFL player's sentence is just the latest rape, physical, or sexual assault case involving a famous athlete to gain widespread media attention.
Last year, according to Sports Illustrated, Sharper pleaded guilty "to two counts of forcible rape for drugging and assaulting two women and one count of simple rape stemming from two separate incidents in August and September 2013 involving three women." He also pleaded guilty to three counts of conspiracy to distribute drugs with the intent to commit rape, which authorities say was done to with anti-anxiety drugs, according to Sports Illustrated. Sharper apparently would spike women's drinks so he and another man could rape them. These abhorrent crimes occurred in Louisiana, Arizona, California and Nevada.
According to The Washington Post, a nine-year prison sentence had been previously suggested for Sharper, but U.S. District Judge Jane Triche Milazzo rightfully found the sentence to be lenient for the crimes he committed and rejected the suggestion, which carries a maximum sentence of 20 years.
One victim was given the chance to address Sharper directly in court. According to the Associated Press, she called him "twisted" because even after Sharper knew the attack on her was being investigated, she said, he continued to drug and rape more women.
The behavior this victim described shows a deeply disturbing pattern among other NFL players who have been accused of sexual assault or domestic violence. An investigation by Vice published in December 2015 found that 44 NFL players have been accused of sexual or physical assault in recent years, some of which happened before the athletes joined the NFL.
"When we celebrate these men as athletes and role models while overlooking their alleged histories, we contribute to a culture in which violent misogyny is normalized," the Vice report read.
NFL players and other famous athletes are worshiped in the United States. We liken them to superheroes and want them to act as role models for children to look up to. But, for too long, when an athlete was accused of a heinous act, like rape, the proper protocol wasn't always followed. Instead, the unpleasant accusations tend to get shushed.
The bravery the Sharper's victims displayed in taking their cases to police and, later, to court, proves that things are starting to change — however slowly.