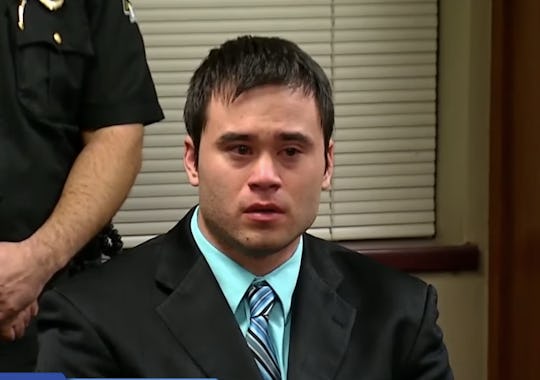 YouTube
Ex-Oklahoma City Officer Daniel Holtzclaw Sentenced To 263 Consecutive Years In Prison — REPORT
A district judge on Thursday sentenced ex-Oklahoma City police officer Daniel Holtzclaw to 263 consecutive years in prison for the rapes and sexual assaults of several black women and one underage black girl between February and June 2014. Holtzclaw was previously convicted in December on 18 counts of first-degree rape, second-degree rape, forcible oral sodomy, sexual battery, and procuring lewd exhibition. He was acquitted on 18 separate counts.
"I think people need to realize that this is not a law-enforcement officer that committed these crimes," Oklahoma County District Attorney Scott Prater said in a statement to AP reporters on Thursday. "This is a rapist who masqueraded as a law-enforcement officer. If he was a true law enforcement officer he would have upheld his duty to protect those citizens rather than victimize them."
During Thursday's sentencing hearing, The Root reported that several of Holtzclaw's victims took to the witness stand to speak out against the 29-year-old former football player. "[I] just wanted my life back," said 59-year-old Jannie Ligons. In previous appearances, Ligons recalled feeling "afraid for her life" at the time of her assault. "I kept begging him, 'Sir, please don't make me do this,'" she said, in a statement to reporters last month.
Prosecutors in Holtzclaw's case initially alleged that the former officer had targeted specific neighborhoods around the capital city, specifically seeking out black victims. According to court testimony, Holtzclaw on more than one occasion referred to himself as caucasian, asking one victim in particular if she had ever "ducked white d--k", further fueling questions about his motive.
"He used that 'whiteness' as a weapon to ridicule and demean his black victims," The Daily Beast's Goldie Taylor claimed in a column back in December. "He wanted them to know that they were black and therefore powerless. He wanted them to know that nobody—not police, not investigators, not the media, not a jury—would believe them."
The Black Lives Matter movement has been closely following the case since it was first brought before a judge in August 2014, hoping to draw more attention to the topic of police brutality against black women. On Thursday, New York City chapter member Janisha Gabriel told Pacific Standard Magazine that she and others hoped Holtzclaw's sentencing would set the precedent for other similar cases. "Historically, we haven't been able to rely on the sentencing of individual officers to significantly influence systemic change," she said. "We hope Holtzclaw's sentencing will have some impact against an unjust system that allows anti-black violence to permeate."
Outside the courtroom on Thursday, Holtzclaw's attorneys stated that they would appeal the decision, but maintained that the sentence was not entirely unexpected. "It is what it is," said defense lawyer Scott Adams. "It wasn't a surprise."
Images: Fox 10 Phoenix/YouTube screengrab