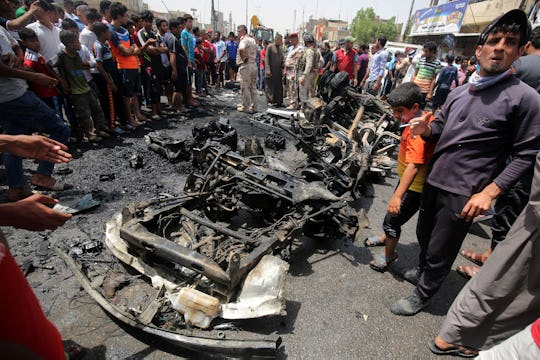 AHMAD AL-RUBAYE/AFP/Getty Images
Explosion Near Baghdad Beauty Salon Leaves Scores Dead, Adding To An Already Bloody Year
A deadly explosion tore through an outdoor market in Baghdad Wednesday, killing at least 50 people and injuring many more. A truck packed with fruit, vegetables, and explosives went off near a Baghdad beauty salon in Sadr City on during rush hour, rocking the otherwise peaceful commercial square. It was one of three suicide bombings that day which reportedly killed 93 people total in Iraq's capital city. Islamic State militants quickly claimed responsibility for all three violent attacks, the deadliest in Baghdad this year so far.
The first attack occurred when a car bomb was detonated in a crowded square in the Baghdad district of Sadr City on Wednesday afternoon. Later in the day, a suicide bomber struck a security checkpoint outside Kadhimya, a northwestern district that houses one of Shiite Islam's holiest sites, killing at least 16 and injuring dozens more. A third bomb went off at a checkpoint in an outdoor marketplace in a predominantly Sunni district, leaving eight dead and 20 injured.
Many of the victims of today's bombing in Sadr City were women—including, according to Reuters, several brides who were getting ready for their weddings at the salon. Two men's bodies, reportedly grooms, were also found in a nearby barber shop. The ground near the explosion was littered with children's toys, shoes, and wigs, Reuters reported, and at least two cars were destroyed in the bombing.
Karim Salih, a grocer working in the market at the time of the explosion, told the Associated Press, "It was such a thunderous explosion that jolted the ground."
"The force of the explosion," the grocer said, "threw me for meters away and I lost consciousness for a few minutes."
The market where today's attack occurred is one of four main outdoor commercial venues in Sadr City, a crowded slum home to around 2.5 million Shiite residents. Sadr City is one of the poorest areas in Baghdad and the neighborhood has been historically and repeatedly targeted by violent attacks from ISIS and Sunni extremist groups. In February of this year, ISIS executed deadly back-to-back bombings in the neighborhood.
ISIS militants currently control a significant part of northern and western Iraq, including the country's second-largest city Mosul. In Iraq, the struggle to topple ISIS has only served to exacerbate the historical sectarian conflict between the country's Shiite majority and the Sunni minority.
Sadr City is a predominantly Shiite neighborhood, while ISIS is comprised of Sunni Muslims. ISIS considers Shiite Muslims to be apostates and the extremist group has targeted Shiite settlements in countless attacks during its reign of terror in the Middle East. In statements circulated by supporters online, ISIS claimed today's car bomb was targeting a group of Shiite militia fighters who were gathered in the market.
While security has improved in the Iraqi capital — which just ten years ago was dealing with destructive bombings daily — violence against Shiite Muslim civilians and security forces is still frequent. Such bombings have sometimes set off revenge attacks against the Sunni minority population in Baghdad.
"Politicians are fighting each other in parliament and government while the people are being killed every day," Hussein Abdullah told the Associated Press after suffering shrapnel wounds from today's bombing in Sadr City. "If they can't protect us," the owner of an electrical appliance store said, "then they have to let us do the job."
In April, at least 741 Iraqis were killed because of the ongoing violence, according to the United Nations, and at least 1,119 Iraqis were killed throughout March.
The Iraqi people have suffered severely over the last 10-plus years, so it is utterly devastating for them to find themselves once again the targets of this kind of violence, and to once again lose that simple sense of security that one needs when doing something as simple as leaving their home and going to the market.