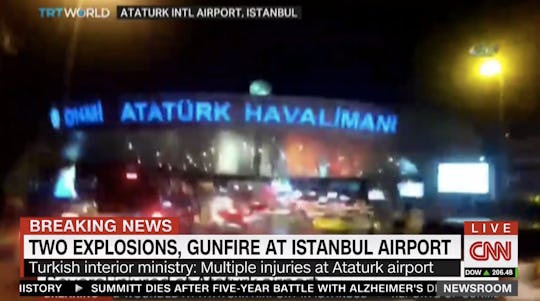 CNN screengrab
Explosions & Gunfire At Istanbul Airport, Multiple Injuries Reported
Turkish media reported that a series of explosions and gunfire had rocked the Istanbul airport on Tuesday. According to Reuters, Turkish sources had claimed there were multiple injuries, although no official victim count was immediately available. It was not clear who was responsible for the incident.
Update, 7:17 p.m. ET: Istanbul's governor says at least 31 people were killed in the Istanbul Ataturk airport attack, and at least 140 were wounded, according to the Associated Press. Authorities believe there were three suicide bombers. This corrects earlier estimates from the Turkish justice minister that put the number of fatalities at 50.
According to Reuters reporters, the three explosions occurred late in the evening at Istanbul Ataturk Airport, after three men blew themselves up. Passengers also reported hearing gunfire from the nearby carpark, according to Turkish officials.
CNN reported that police had begun transporting passengers and patrons out of the area in taxis, in an attempt to keep them safe from any potential future explosions or attacks. Video footage taken by those still inside the airport showed masses of passengers crouching on the ground next to one another. According to a semi-official Turkish state news agency, authorities had dispatched a large number of police and emergency responders to the scene within minutes.
The Turkish interior ministry confirmed that at least one of the explosions had detonated inside the airport, while at least one other had been detonated outside. The men had reportedly been carrying Kalashnikov rifles when police confronted them.
Istanbul Ataturk is considered a major travel hub in the region and the 11th busiest in the world; In 2015, the airport served some 60 million passengers, according to Bloomberg Business. The airport is made up of two main passenger terminals, one servicing mainly domestic flights and the other servicing international flights.
Officials could not immediately say whether the incident was connected to ISIS, although the city has been plagued with multiple ISIS attacks in recent months. In March, a suicide bombing in the city's Beyoğlu district killed four people and injured scores more; Just months earlier in January, another suicide bombing near the Sultan Ahmed Mosque claimed the lives of 11, leaving 14 others injured. In both, ISIS militants were the primary suspects.
Authorities have also questioned whether the explosions were the work of PKK militants. PKK, the Kurdistan Workers' Party, often targets security checkpoints, although experts have noted that militants may be shifting focus to target high-traffic hubs like Istanbul Ataturk. However, a senior U.S. counterterrorism official reportedly told NBC News editor Bradd Jaffy in a statement that the attack on Tuesday "fit the ISIS profile, not PKK."
Istanbul Ataturk's passenger screening process is a stringent one; All luggage must be screened before passengers themselves are able to make their way through the terminal, and all passengers are subject to a security check. It's unclear how far inside the airport the attackers were able to get before detonating the explosives.