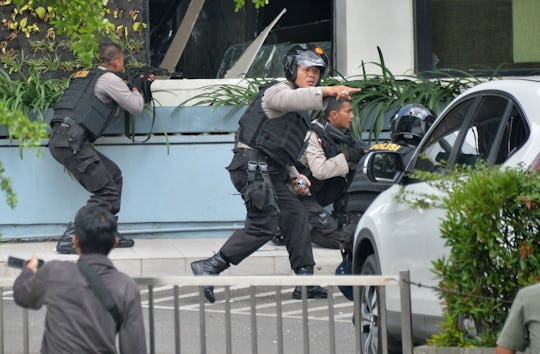 BAY ISMOYO/AFP/Getty Images
Explosions, Gunfire In Jakarta, Indonesia, Casualties Reported
Authorities in the Indonesian capital of Jakarta reported a series of explosions and gunfire on Thursday morning local time. Officials stated that there were at least four dead, with several others injured. According to witnesses, one of the blasts damaged a police post along one of the city's main roads. By midday, authorities had attributed the attack to Islamic State militants, although no group had officially come forward to claim responsibility. Update (1:39 p.m. local time): Authorities have raised the death toll to seven, according to a statement by Jakarta police spokesman Col. Muhammad Iqbal. The estimate included the four suicide attackers involved in the initial blasts.
According to an AP report, the incident began at a Starbucks cafe in downtown Jakarta on Thursday after three suicide bombers detonated explosives, killing one policeman. At the same time, witnesses said that two gunman simultaneously launched an attack just outside a nearby police station, trading gunfire with law enforcement for nearly and hour and a half. Unconfirmed reports alleged that between 10 and 14 suspects in total had been involved in the initial attack, six of whom were still hiding out in a local skyline building by mid-morning, according to a reporter from The Sydney Morning Herald.
Witnesses also confirmed to reporters that another round of gunfire was heard a short time later near the Sarinah shopping mall, an area Mashable's Ariel Bogle noted was known for it's luxury hotels and international embassies. Within minutes, a second round of explosions had struck central Jakarta. UN representative Jeremy Douglas, who was on the scene at the time, tweeted Thursday that at least one of the explosions had occurred in front of the UN offices.
"A massive #bomb went off in front of our new #Indonesia office as @collie_brown & I [exited the] car," Douglas tweeted. "Chaos & we're going into lock-down." In the moments following the explosion, Douglas reported that there was a "serious exchange of gunfire", adding that in his "3.5 years in Pakistan", he had never experienced an event of that magnitude.
Around 1 p.m. local time, authorities reported another explosion at a cafe next door to the Starbucks where the initial attack had occurred. According to AP reporters on the scene, the explosion took place "after about 25 anti-terror squad police" stormed the building. Around the same time, Indonesian network TVOne claimed that a separate wave of attacks had struck just outside the Turkish and Pakistani embassies.
"We have previously received a threat from Islamic State that Indonesia will be the spotlight," police spokesman Anton Charliyan said in a statement to reporters, noting that authorities did not know exactly which individuals were involved in the attack.
A Reuters photographer on the scene reported Thursday that they could see "three dead people" lying in the street where the first wave of attacks had occurred, some time earlier. "The Starbucks cafe windows are blown out," they described. "I see three dead people on the road. There has been a lull in the shooting but someone is on the roof of the building and police are aiming their guns at him."
As police searched nearby buildings, panicked family members outside the country began frantically attempting to get in touch with loved ones. "Have family living in Jakarta, can't contact them at the moment," one woman tweeted urgently. "Will keep trying."
On Thursday afternoon, Indonesian President Joko "Jokowi" Widodo announced that he had ordered his security forces to "hunt down" the perpetrators, and urged the public to remain calm. "We express condolence[s] to those who became victims, but we all also condemn the attack that caused restless[ness] among the community," he said in a statement on national television. "The state, nation and people should not be afraid of, and lose to, such terror acts."
The events in Jakarta follow closely on the heels of a series of terror attacks in the capital city of Paris, France last November, in which a group of ISIS militants stormed a concert hall and various nearby restaurants, detonating explosives and taking dozens of people hostage. In total, police reported a total of 130 fatalities.
Images: BAY ISMOYO/AFP/Getty Images (2)