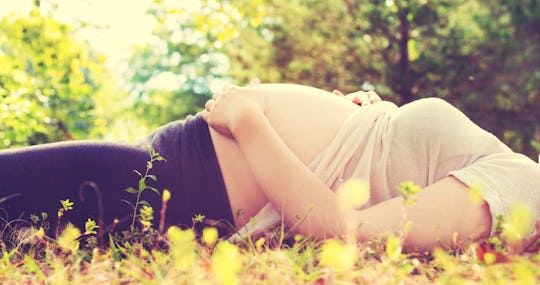 Fotolia
Exposure To Pollen During Pregnancy May Increase Baby's Asthma Risk, Study Finds
For many adults, hay fever is a fact of life, especially if you live outside big cities in areas surrounded by woods and plants. You tend to be hyperaware of when peak pollen season rolls around. But if pollen can cause hay fever in adults, does it have any impact on children in the womb? According to a recent study, exposure to pollen during pregnancy may increase a baby's asthma risk.
Asthma is a very common condition. According to the Centers for Disease Control and Prevention, one in thirteen people have asthma. Overall, the CDC reported that means 26 million Americans have asthma, including 8.3 percent of children.
It's a chronic condition, meaning that there's no cure. The Mayo Clinic defined asthma as a condition where airways narrow and swell and produce extra mucus. It can make breathing difficult and trigger coughing, wheezing, and shortness of breath.
For some, asthma is a minor nuisance. But for others, asthma can present a major threat, particularly during bad attacks. Childhood asthma presents unique challenges, as noted by the Mayo Clinic, and is the leading cause of children's emergency department visits, hospitalizations, and missed school days.
With asthma rates on the rise, many people are wondering what causes this condition.
Led by La Trobe University, researchers made up of teams from the MACS study, COPSA2000, and LISAplus, decided to look into the impact that pollen exposure may have on children's asthma rates. As noted by Science Daily, the study was conducted in Melbourne, Denmark, and Germany.
It's known that pollen can induce asthma attacks and increased exposure during infancy can lead to increased risk of asthma or hay fever, as noted by a 2013 study on National Center for Biotechnology Information's website. And although people sometimes think of the womb as totally isolated from the outside world, what the mothers are exposed to impacts the baby.
Researchers wanted to look into the effect of exposure to high grass pollens during pregnancy and after birth, according to Healthworld. Associate Professier Bircan Erbas said, according to Healthworld:
"We know that outdoor pollen exposure during the first couple of months after birth can lead to allergic respiratory diseases and we suspected that exposure during the later stages of pregnancy may also be important."
By analyzing the cord blood from hundreds of babies, researchers were able to determine, as Healthworld reported, "those born during the peak grass pollen season in both hemispheres had high immunoglobulin E (IgE) levels in umbilical cord blood".
In other words, babies born during peak grass pollen season were shown to have a marker used to predict the development of allergies.
On the other hand, being pregnant for the entire pollen season may have a positive effect. As Professor Erbas explained, according to Science Daily:
"We found these babies had lower IgE levels. This was a significant finding and indicates the possible development of a sensitisation barrier."
Since the studies were conducted outside of the United States, the months they point to as peak grass pollen season aren't the same everywhere. WeatherBug reported late summer and fall, or August to December, as months to watch for. That's a wide expanse of time, so it's best to do a quick search based on your exact location to determine a narrower window.
More studies do need to be done to fully explore the relationship between pollen season and asthma in babies. Hopefully, with further studies, researchers will be able to provide a smaller window of risk time.
It's also important to note that this study doesn't mean all children born during pollen season will develop asthma, as noted by Science Daily. This study is meant to give more insight into how asthma can be managed in the future.
But for any adults with asthma, it might be interesting to look back and see if you were born during peak pollen season.