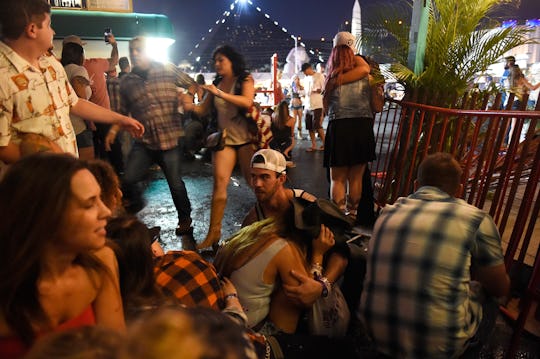 David Becker/Getty Images News/Getty Images
Eyewitness Accounts Of The Las Vegas Shooting Are Absolutely Devastating
On Sunday night, a gunman opened fire on a crowd of people enjoying the Route 91 Harvest Festival in Las Vegas, Nevada. The gunman's horrific acts of violence left at least 50 dead and more than 400 injured, according to CNN. As police try to learn more about the shooting, which is now known to be the deadliest mass shooting in America, people who attended the festival are coming forward with devastating eyewitness accounts of the Las Vegas shooting.
Update: As of 6 p.m. ET on Monday, Oct. 2, CNN reports that 59 people have died and over 500 people were injured. Authorities say the suspect had 18 additional firearms, explosives and several thousand rounds of ammo at his home in Mesquite, NV.
Throughout the past few decades, America has witnessed a staggering amount of mass shootings. Each time a mass shooting occurs, people are left heartbroken and haunted by the eyewitness accounts of the violence. Given the large crowd size at the Route 91 Harvest Festival (The Washington Post reports about 22,000 people attended the festival), the nation is waking up to many eyewitness accounts of the shooting, and each anecdote is as heartbreaking as it chilling.
When the gunshots first started, many people stood frozen in confusion. It was only until Jason Aldean, the performer at the time, dropped his guitar that many people started running for safety.
Mike McGarry, a 53-year-old financial adviser from Philadelphia said, according to Reuters, "It was crazy — I laid on top of the kids. They're 20. I'm 53. I lived a good life."
Another woman recounted to Fox News how she hid in a beer truck to escape the violence:
Lindsey Padgett, another concert goer, told ABC News:
We were trying to leave and when we were leaving we realized there were people everywhere that needed help and in stretchers – there was a girl in a wheelbarrow and she wasn't moving.
To make matters even more horrific for Padgett, she witnessed a man die in the bed of her truck, according to ABC News:
We didn't know where the hospital was so we were like, 'Where do we go, where do we go,' and the ambulance told us to follow them to the hospital with the rest of the injured people. I'm surprised, I really am, that no one I know was injured – I thought for sure we were all going to die.
Another festival attendee, Mike Cronk, who tried to help shooting victims, recalled how one of the injured died in his arms:
In one particularly harrowing account, a witness told Good Morning America about how he saw "six young women ... crying on the ground." As the witness tried to hide from the shooter, he had terrifying thoughts about the 2016 mass shooting in Orlando, Florida:
Another concert attendee, Rachel Dekerf, explained to CNN how the gunfire never seemed to end. Dekerf said, according to CNN:
The gunfire never ended, it seemed like. It just went on and on and on. The gunshots lasted for 10-15 minutes. It didn't stop. We just ran for our lives.
Amid all the violence and horror, however, Taylor Dumbrovski, a woman visiting Las Vegas from Cold Spring, Minnesota, said she witnessed a majority of the concert goers helping one another to survive. She said, according to KARE 11:
Everybody was running around us everyone was panicking it didn't seem like people were pushing or shoving, if people were caught on stuff people were helping or if they tripped they would help. It was just keep moving, keep helping.
Another concertgoer, Gail Davis, told CBS This Morning about how a police officer shielded her from gunfire:
These eyewitness accounts, as well as the eyewitness accounts that will emerge in the coming days, are terrifying reminders of all the work America needs to do to stop gun violence. America and its devastated citizens have endured enough.