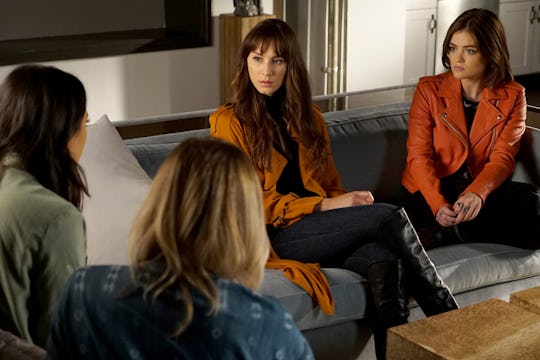 Eric McCandless/Freeform
Ezra Proposes To Aria On 'Pretty Little Liars,' But What Will She Say?
It was heavily teased that Tuesday night's episode of Pretty Little Liars would include a surprise proposal for one of the Liars, but it was anyone's guess which one it would be. Would Jordan propose again and try to get back together with Hanna? Did Caleb leave only to come back and surprise Spencer with an extravagant proposal? Maybe Ezra hid a ring in a book for Aria to find, or did Ali finally realized she belonged with Emily and didn't want to miss her chance again. Well after a lot of guessing it's now been revealed that Ezra proposed to Aria on Pretty Little Liars and fans everywhere are freaking out.
Ezra and Aria have been together literally since day one. From their first bar hookup in the pilot episode all the way to now, these two have been through a lot. Beginning as a secret student/teacher relationship, fans were sometimes conflicted on whether or not to support Ezria but for the most part fans seem to love them and they're arguably the best couple on the show. These two have gone to the end of the Earth and back just to be together and now it seems like all their struggles were worth it.
Although they were apart for that five year jump, they're back together now and Ezra has realized he never wants to be apart from Aria ever again. Laying his heart bare for Aria (and all us fans) to see, he told Aria just how much he loved her before getting down on one knee and giving us the proposal we've all been waiting for. Naturally fans completely lost it.
Of course the episode then ended on a cliffhanger leaving fans to wonder if Aria will say yes or no. Based on the preview for the following episode it looks like Aria will be hesitant to give Ezra any decision until she's certain she's not going to jail for Archer's murder, which is a pretty good reason to hesitate. Unfortunately for PLL fans we'll have to wait two weeks before we know Aria's answer. Until then let's just keep watching that proposal over and over again. #EzriaForever