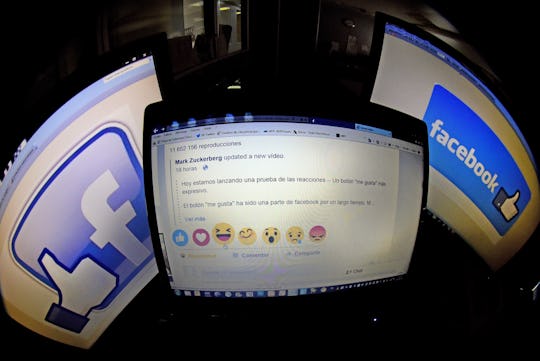 GERARD JULIEN/AFP/Getty Images
Facebook Reactions Hit Facebook & People Aren't Sure How To React
All we ever wanted was a "dislike" button, Facebook. Instead, the world has been graced with Facebook's new "Reactions" — emoticons that users can use to clarify their emotions when they like a post or picture. The traditional "like" button will remain the same, but users can now press and hold the button and see options for "Love," "Wow," "Haha," "Sad," and "Angry," too. According to a statement by Sammi Krug, Facebook's Product Manager, Reactions has been in testing for over a year in preparation for its global launch, and the pilot went well. Krug wrote:
"For more than a year we have been conducting global research including focus groups and surveys to determine what types of reactions people would want to use most. We also looked at how people are already commenting on posts and the top stickers and emoticons as signals for the types of reactions people are already using to determine which reactions to offer."
Either way, it looks like we're in for a much more expressive, emotional Facebook. Throw out Humintell's seven basic emotions or your James-Lange theories, folks — Facebook has a new way, and the reactions to Facebook's reactions have me using that little "Haha" face Reaction.
As with every new Facebook change, people are taking the news in different ways.
Bloomberg recently called the Like button change "the most drastic change to Facebook in years" and compared the decision to "Coca-Cola messing with its secret recipe." But users have wanted a dislike button for years, and it was time to reflect that on the social media site — without actually doing so, of course.
According to Slate, founder Mark Zuckerberg explained the reasoning behind the decision by saying, "Some people have asked for a dislike button because they want to say, 'That thing isn't good.' And that's not something that we think is good for the world. So we're not going to build that." (Which, you know, is fair enough. A "dislike" button would have been a hellish tool in high school.)
Personally, I have a few questions about the new Reactions. How long will it be before we can react with Kimojis? What is the best Reaction to use to express my shock when a friend posts something positive about Donald Trump? What if someone reacts with an angry or a sad face when I've posted good news? Is it now trivial to just use the like button? I have so many questions, Facebook.
At least I can now show people that I'm not stoked about all of their food pictures taking over my feed instead of just steadfastly ignoring the "like" button.
Another day, another Facebook change.