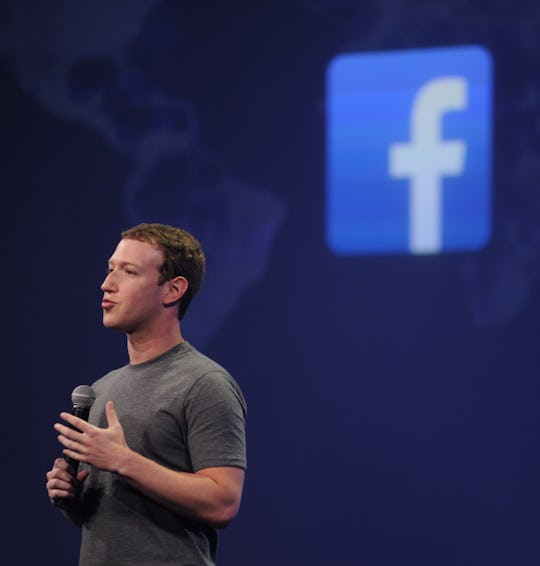 JOSH EDELSON/AFP/Getty Images
Facebook Sponsors Donald Trump At GOP Convention And People Are Not Happy
Love him or hate him, a lot of people have comments about Republican frontrunner Donald Trump and you might remember when Facebook CEO Mark Zuckerburg used his social media platform to criticize the real estate mogul's stance on immigration. So, you might find yourself doing a double take and questioning what it means when Facebook sponsors Trump at the Republican National Convention in Cleveland, Ohio. The wording is key here — Facebook confirmed to Recode that it will sponsor the convention where Trump is expected to be announced as the Republican party's presidential nominee.
According to Recode, Facebook says its participation "should not be interpreted as an endorsement of any candidate, issue or political party." The social network says it plans to do the same and sponsor the Democratic National Convention in Philadelphia. Facebook considers the sponsorship to be a change to open a dialogue and to encourage Facebook users to get involved in the election this year.
"This support allows Facebook to facilitate an open dialogue among voters, candidates and elected official during the conventions, just as it has during other critical moments in the U.S. elections and in elections around the world," Erin Egan, Facebook's video president of public policy, said in a statement to Recode.
Not everyone is seeing the sponsorship deal as neutrally as Facebook staffers are. CREDO Action, a group that promotes progressive social change, is among other advocated that are pressuring Facebook to withdraw their support for the GOP's nominating event. CREDO Action described the the sponsorship to Recode as essentially endorsing Trump and his "hateful" rhetoric.
Other tech giants like Google and Microsoft have faced criticism for their neutral stance and financially supporting events that support the GOP with activists urging them to abandon their plans. Such as Google's plan to live stream the convention on YouTube.
Last week, activists held a #DumpTrump protest outside of Google and launched a Facebook ad campaign on Thursday urging Google employees to shut down the plans to livestream the convention.
In 2012, Facebook sponsored "photo spots" for attendees and this year the company will sponsor a lounge.
Facebook insists that its participating in the convention is only to open a discussion. Their stance on the sponsorship suggests that they want to be seen as a media platform, like Twitter and Instagram during livestream events, and not as a brand sponsor. In this era people are always game for more free options to livestream current events, but not everyone is buying these intentions right away.